From indie developer taleyoLife, comes the reflex testing soccer (or football if you prefer) game on Facebook. taleyoLife is the creator of other games such as the highly entertaining mathematic knowledge tester, Rechenheld. Learn more about this simple, but challenging game in our Crazy Freekick World preview below!

Crazy Freekick World is a great, short game to get into when you feel like challenging yourself and other players around the world. The game is free to play if you're happy to play as Europe, but at a low cost you can upgrade to the full game and choose to play as any desired country from forty-six nations.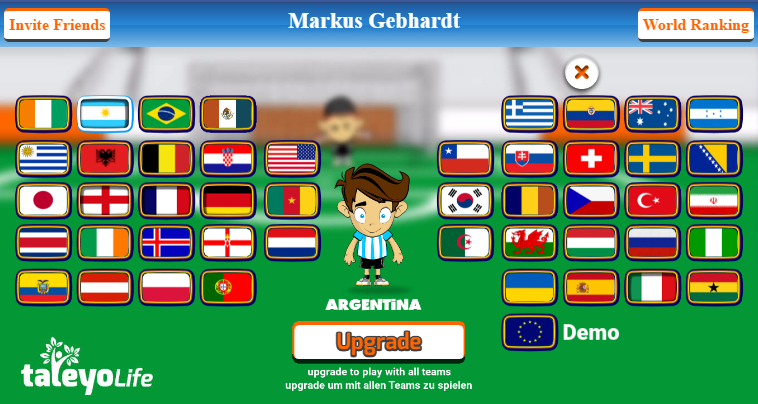 Shoot goals by setting up the angle of your shot and controlling the amount of power in your kick. But don't take too long making your goal perfect, as there's a bonus point timer which is constantly decreasing. The quicker you make your shot, the higher bonus points you'll receive. But then again, if your aim is off or you put too much, or too little power into your kick, you run the risk of missing, or being blocked by the goalkeeper.
By aiming for the highest score, you can challenge your friends from around the globe. Climb the leader-boards and see how your skills fare in the World Ranking.
Features of the Upgraded Crazy Freekick World Preview
Countries from Europe, America, Asia, Africa and Australia
Play with your desired country from 46 nations
Embrace your inner patriot with all national anthems of these countries
World Ranking and player highscore
Simple and imaginative graphics and animation
Difficulty increases
Low cost for the upgrade
Crazy Freekick World is available to play right now on Facebook. If you want to get started, head over to Facebook and begin your Crazy Freekick World experience!
You can learn more about developer taleyoLife on their website – www.taleyo-life.de.