Playing first-person shooters in a dangerous manner can be incredibly fun. But if your reflexes and spacial awareness aren't amazing, you're going to have a bad time. However, DESYNC introduces you to playing fast and keeping your wits about you quite well. Read our DESYNC review below to find out more!

Platform Used For DESYNC Review: Metabox Prime P650RP-G, NVIDIA GeForce GTX 1060 6GB GDDR5 VRAM with G-Sync, Intel Core i7-6700HQ Processor (6M Cache up to 3.50 GHz), 16GB DDR4 2133MHZ (1 x 16GB)
Developer: The Foregone Syndicate
Genre: First-person bullet hell, Action, Indie
Recommended If You Like: Bulletstorm, SUPERHOT
Price: $14.99USD
Rating:


DESYNC by The Foregone Syndicate is a fresh take on the first-person genre. Gone are the days of following a story, experiencing a twist you never saw coming or marvelling at amazing next-gen graphics. Instead we are given a very straightforward game where the main goal is to kick as much arse as possible. And it's not like you even have a choice, as enemies constantly surround and pounce on you with only a moment's notice (if you're paying attention to the arrows pointing where enemies are, that is).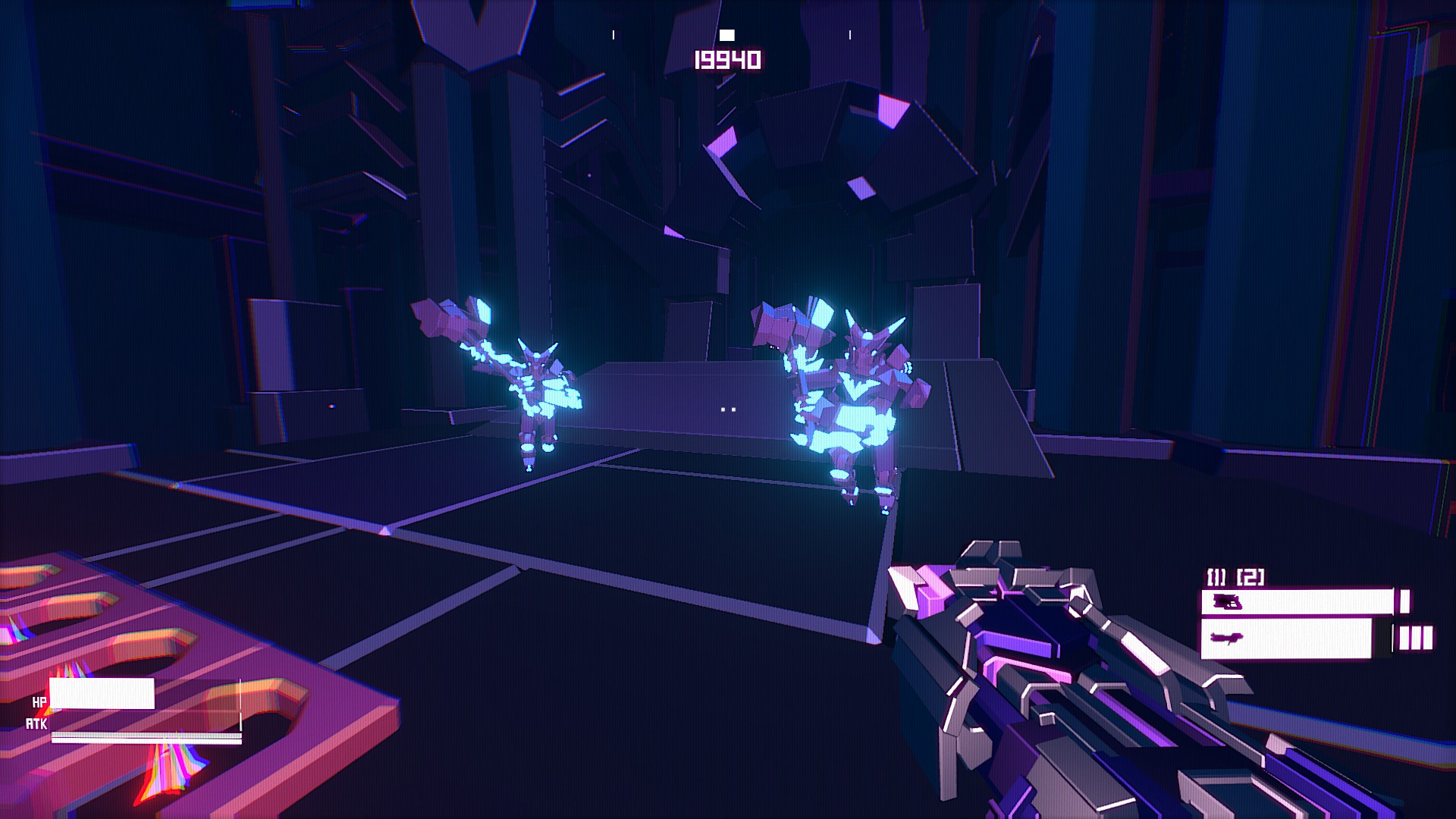 In DESYNC you are placed inside an abstract world filled with geometric 3D shapes, neon colours and no story to have to worry about. Instead you need to take down enemies that constantly spawn around you as quickly and flashily as possible. Now when I say flashily I mean you need to run in guns blazing and dodge, outstrafe and outgun your A.I. opponents. Each level gives you a score at the end and your score is calculated by things such as your mobility, situational and spacial awareness, firing accuracy, attack variety, movement patterns and heaps more. So in other words the more dangerously you play DESYNC and the more of a dare-devil you are, the better your score could potentially be.
There are plenty of levels to play through and heaps of different enemies to go up against. Each enemy also comes in advanced, more powerful forms to make things that little bit harder. You can tell the difference by the colour they come in. Also during the beginning levels you gain access to more powerful weaponry to add to your arsenal of a basic pistol. Each weapon has access to alternate firing to give you a slight upper hand over your foes. The alternate firing modes do things such as blast a more powerful bullet or place a spinning blade on the floor/air that damages enemies when they walk through it. But of course, with such overpowered extra ways of dealing damage, using your alternate fire churns through more ammunition, potentially leaving you with nothing left in the tank. However your basic pistol constantly regenerates ammunition and other weapons can be reloaded with the aid of shards you pick up from downed enemies.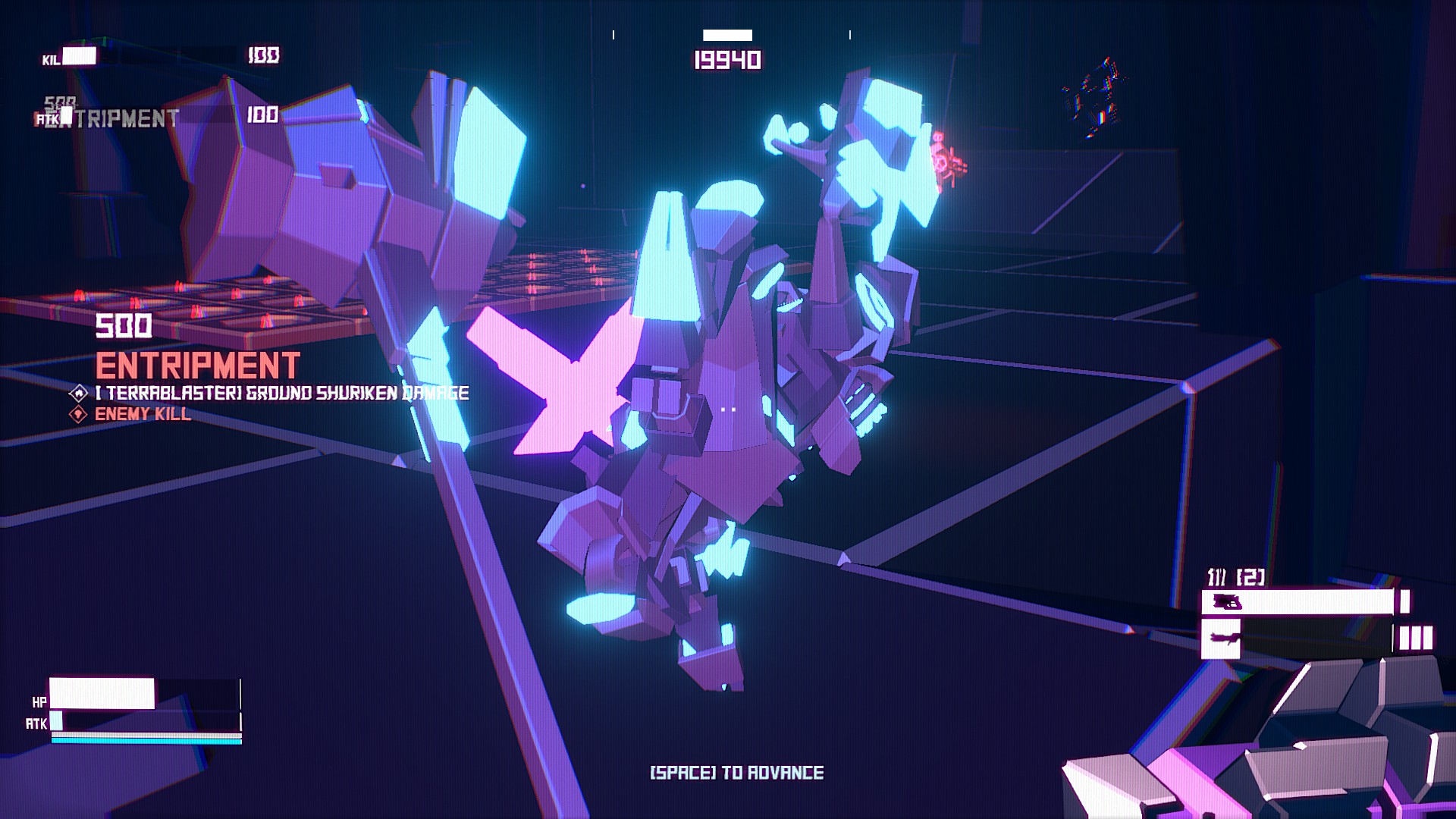 Now, some of you may have heard of or played a game called Bulletstorm. In Bulletstorm you were rewarded for killing enemies in differing gory ways. For example you could kick enemies into spikes, blast them off ledges or shoot them in specific body parts. In DESYNC you can do the same kinds of things. For example, staggering an enemy and then firing off a killing headshot, or blasting an enemy into a wall full of spikes. The more deadly or imaginative your kills are, the more points you'll be rewarded with.
The scoring system links up to an online leaderboard where you can compete to get the highest score with other players. At the end of a level you will see how well you did and be given a ranking based on your score. So the higher score you get the better your chances of getting a high ranking like A.
Once you've beaten a few levels you'll gain access to structures in your base area that let you build, upgrade and equip sidearms such as shields, and bonus abilities such as healing.
Aesthetic Charm
The simplistic, neon graphics in DESYNC are a feast for the eyes, but mainly because of their colours. If you experience headaches or seizures from flashing lights/pictures you should probably stay away from this one.
Musically, DESYNC is freaking sweet. The electro-style music is so awesome to listen to, especially with headphones in, so be sure to crank up the volume and zip around like a badass, decimating neon-coloured foes every which way.
Final Thoughts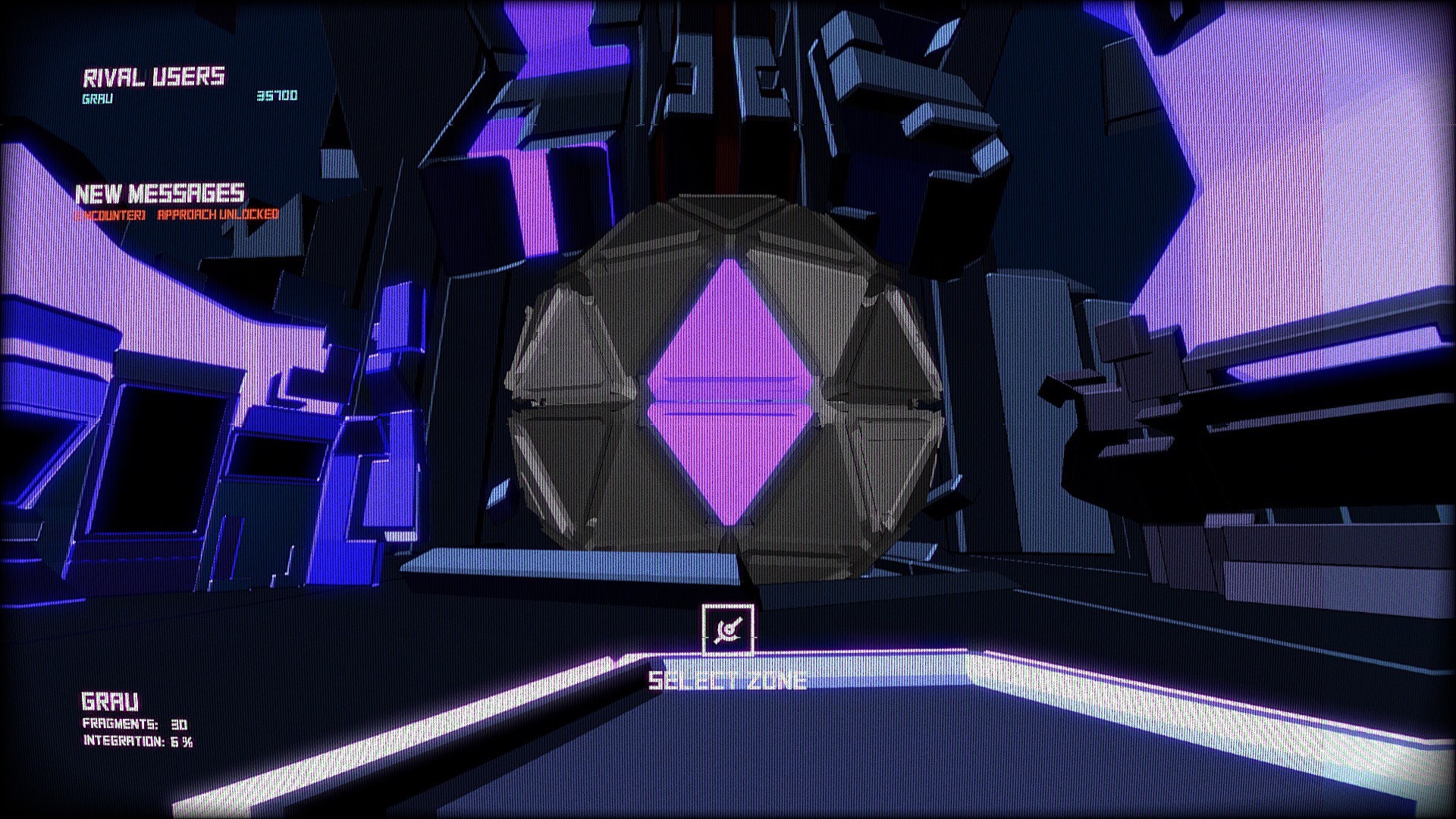 DESYNC is a very refreshing release. It's not often you see a game that takes into account things like how you killed an enemy or how well you navigate a location and reward you for it. The online leaderboard is a great way to show off your e-peen and being able to compete against others provides plenty of replayability.
With so many levels, imaginative weaponry, differing enemies and awesome, fast-paced gameplay, DESYNC is an amazing workout for your brain and reflexes. It's just a shame levels start to feel a bit samey after you play for long periods of time. The boss fights are also insanely fun and challenging so if you're looking for something to really test you in a dynamic way, DESYNC is definitely worth a look.
Score

4 stars – A fast-paced, neon coloured, trippy shooter that'll test your reflexes


Pluses:
Retro-ish, simple, neon graphics
Incredibly fast-paced so you'll never be stuck with nothing to do
Heaps of different types of special kills to achieve and plenty of unlockables
Being able to better your score to compete with others is a great addition

Minuses:
Levels can feel a bit samey
[schema type="review" url="http://store.steampowered.com/app/390030/" name="Download DESYNC" description="Playing first-person shooters in a dangerous manner can be incredibly fun. But if your reflexes and spacial awareness aren't amazing, you're going to have a bad time. However, DESYNC introduces you to playing fast and keeping your wits about you quite well." rev_name="DESYNC Review" rev_body="The boss fights are also insanely fun and challenging so if you're looking for something to really test you in a dynamic way, DESYNC is definitely worth a look." author="GameReviews AU" pubdate="2017-03-16″ user_review="4″ min_review="1″ max_review="5″ ]