If ancient Greeks had the opportunity to play slots, would they have? If the graphics were as good as they are in Divine Fortune I'm sure they would have! Immerse yourself in reels filled with mythical creatures, riches and heaps of fun. Read our Divine Fortune review below to find out more!

Platform Used For Divine Fortune Review: Metabox Prime P650RP-G, NVIDIA GeForce GTX 1060 6GB GDDR5 VRAM with G-Sync, Intel Core i7-6700HQ Processor (6M Cache up to 3.50 GHz), 16GB DDR4 2133MHZ (1 x 16GB)
Developer: NetEnt
Genre: Virtual slots
Price: Free to play
Rating:


The team at NetEnt are quite skilled at creating addictive virtual slots games. Divine Fortune, a relatively new creation, has got to be one of the more immersive and entertaining video slots games I've dabbled with.
Taking the usual concept of matching up five reel, three row and twenty line slots to win money, the immersion, thanks to glorious graphics and wondrous creatures takes you deeper than most video slots games can. Most of the time you'll see very generic slots games that just throw pointless animations at you. In Divine Fortune, the animations are not only smooth and great to watch, but they also present you with some awesome bonuses.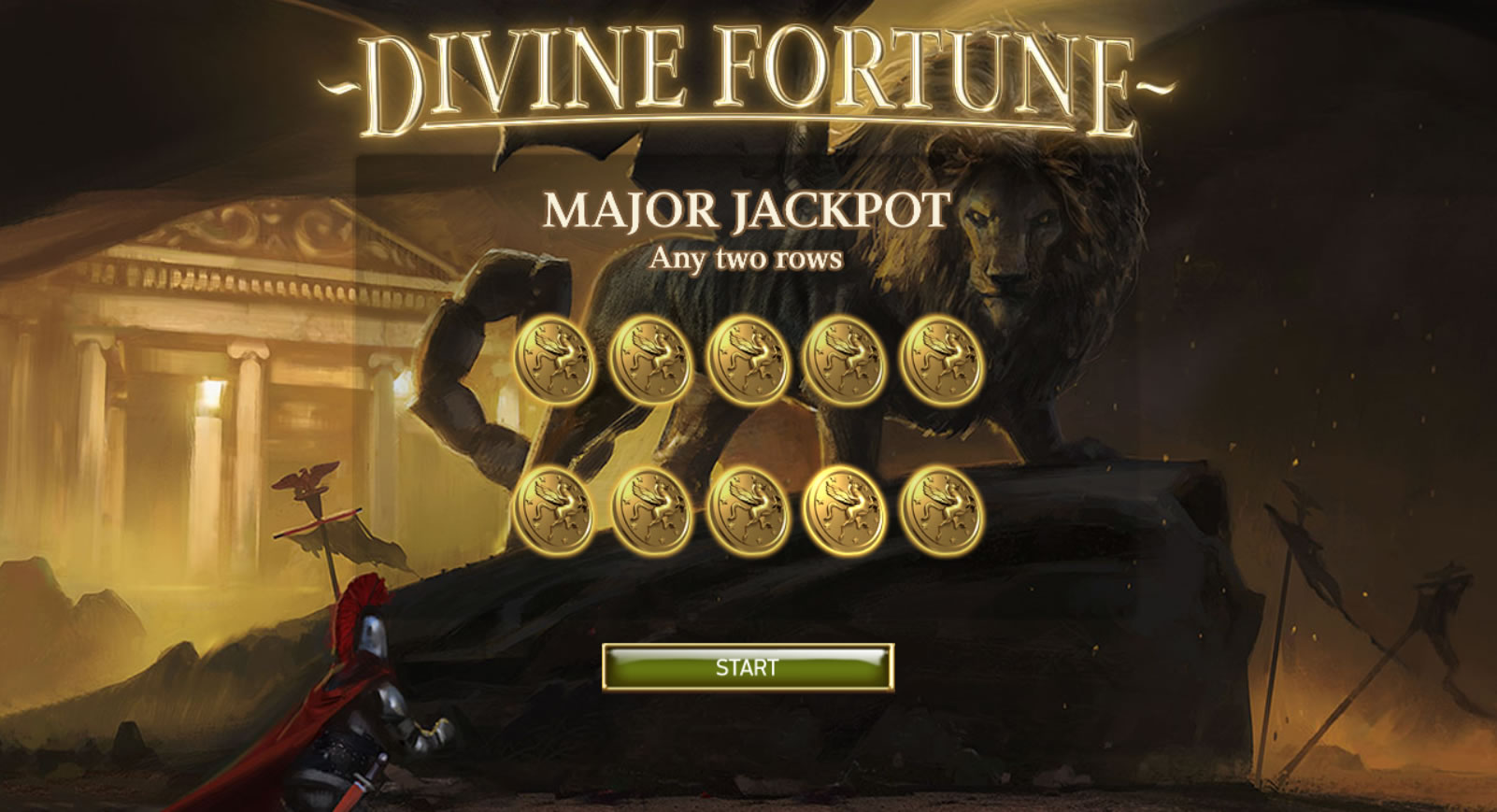 Take for example the slot that comes in the form of a Pegasus: when you see this slot come around, it will act as a "wildcard", stacking up to provide you with plenty of riches. Another such example of bonuses is the ability to collect gold coins and store them in an amphora. Once you earn three coins, you'll be taken to a mini-game that has you spinning the reels to reveal more coins. The more coins you reveal, the more you win. If you happen to reveal all gold coins, you'll win the MEGA jackpot.
There's plenty to get excited about with Divine Fortune and the bonuses are just the beginning. Spin animations and effects look great and so do all of the mythical creature slots that spin around.
Also, like other NetEnt slots games, you have the option to increase how much you're betting, the worth of each coin you spin and being able to set the game to automatically spin for you. Set this autospin mechanic, sit back, relax and enjoy the visual feast of ancient Greek creatures and treasures.
Aesthetic Charm
Graphically and musically speaking, Divine Fortune provides you with an incredibly attractive gaming experience. You'll never get sick of the slots that spin around and when you manage to score that bonus, you'll want to keep pushing ahead to win more and more. The energetic sound effects and music make for an even more exciting experience.
Final Thoughts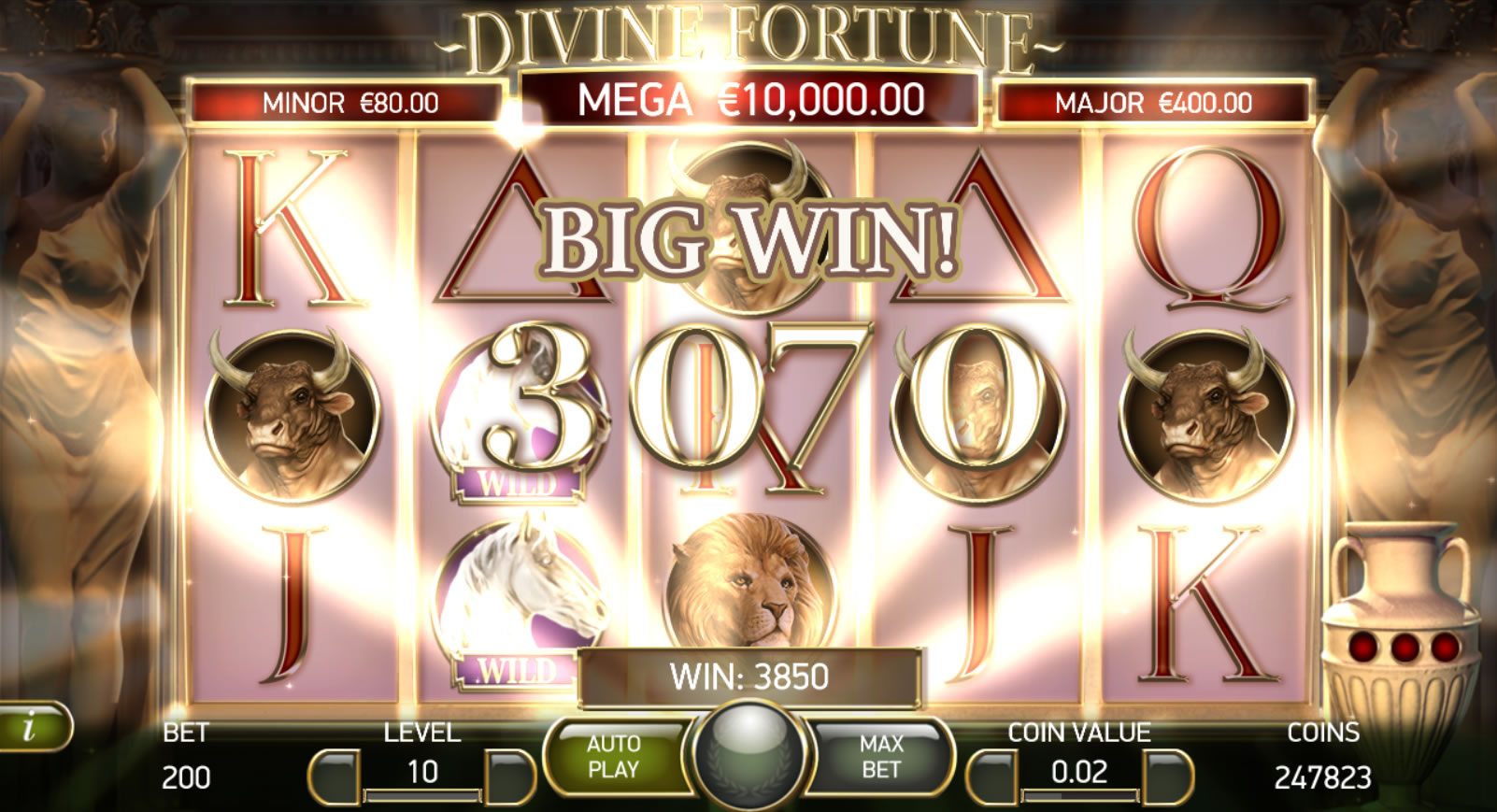 Divine Fortune is one of the more interesting video slots games to play. You can play the game straight from NetEnt's website so you'll never be too far away from it.
Any video slots fan will have a blast spinning through Divine Fortune and it's so easy to pick up and play that even the most beginner of players will be able to understand it quickly.
Seeing as you don't play with real-life money, you can spin as much as you can and not have to worry about your wallet depleting. And because it's a free to play game, there's nothing to lose by playing.
[schema type="review" url="https://www.netent.com/en/game/divine-fortune-mobile/" name="Play Divine Fortune" description="If ancient Greeks had the opportunity to play slots, would they have? If the graphics were as good as they are in Divine Fortune I'm sure they would have! Immerse yourself in reels filled with mythical creatures, riches and heaps of fun." rev_name="Divine Fortune Review" rev_body="Any video slots fan will have a blast spinning through Divine Fortune and it's so easy to pick up and play that even the most beginner of players will be able to understand it quickly." author="GameReviews AU" pubdate="2017-02-06″ user_review="4″ min_review="1″ max_review="5″ ]
Score

4 stars – imaginative slot designs, bonuses and fun mini-games


Pluses:
Beautifully designed graphics, animations, effects and bonuses

Minuses:
Would be nice to play as a downloadable app