Take a short trip down memory lane with Final Fantasy Record Keeper. Revisit all of your favourite moments from Final Fantasy throughout time. Battle your way through familiar monsters and earn some nice loot to customise your party. But don't expect a gripping experience to satiate those Final Fantasy cravings.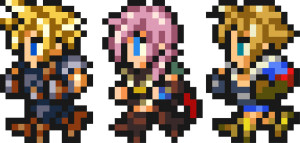 Platform Used For Final Fantasy Record Keeper Review: LG G3
Developer: Square Enix
Publisher: DeNA
Genre: F2P RPG
Price: Free
Rating:

As an avid fan of the entire Final Fantasy series, I must say that Final Fantasy Record Keeper disappointed me a little bit. There are bits and pieces here and there that give me reason to play it, but I could never really call it a true Final Fantasy experience.
Released on the 26th of March, Final Fantasy Record Keeper is available on iOS and Android devices. An entertaining yet slightly forgettable experience, FFRK will tickle your cravings for the Final Fantasy series just enough to make you enjoy yourself but not enough to give you a reason to let your real Final Fantasy games gather dust.
Interesting Concept
The concept of FFRK is quite interesting, allowing you to create a party consisting of characters starring in all of the previous Final Fantasy games. Cloud, Wakka, the Warrior of Light and heaps more are available for you to insert and remove from your party, equipping them with weapons, armour and abilities that can also be found throughout the series. Receiving XP bonuses for your characters who participate in a battle from their own series is quite a nice touch.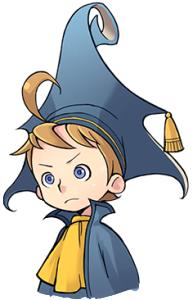 As is the bonus they receive if they're also equipped with a weapon from their respective world.
The storyline found in FFRK is quite basic and lacks depth. Some unknown force is making the stories from Final Fantasy stored in 'The Royal Archives' disappear. It's up to you, a young boy in a wild blue outfit named Tyro to visit the various worlds of the Final Fantasy series to retrieve them.
Each world is represented by a door with it's corresponding number spelt out in Roman numerals. All worlds are available to explore once you've unlocked them except for those found in the MMO versions of FF.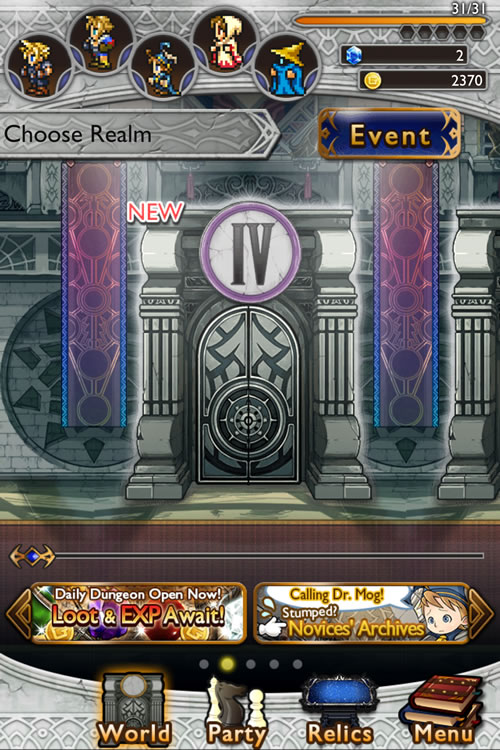 Inside these doors you will be presented with a progressive ladder of levels to conquer. Each level you pass will be graded based on the amount of damage your team received, the actions you took and so on. This makes for a little bit of an extra challenge, as the better your grade the better your rewards. Monsters will also drop loot such as weapons, armour, spells and the like.
Like most games that go along with this genre, you can upgrade your equipment by sacrificing other gear and a bit of gil. Yes you read correctly, the currency in FFRK is gil! A nice little reminder of your previous years playing through Final Fantasy games.
Levelling up your characters is just as satisfying as it was in all FF games. The more enemies you defeat, the stronger your team becomes. You'll need to make sure you're as strong as you can so you can try your hand at the Elite dungeons.
Memory Lane Isn't That Long
Little notes here and there of nostalgia are scattered throughout FFRK, but unfortunately that's about as deep as the reminiscing goes. Don't expect to traverse through areas like Midgar or Besaid and find yourself in awe at the memories rushing to the front of your mind. At best you'll notice the 16-bit graphics of an enemy you recognise and think to yourself, "Oh I remember that guy."
Continue reading on the next page…
[schema type="review" url="https://itunes.apple.com/au/app/final-fantasy-record-keeper/id964320334?mt=8&uo=4&at=11l32yZ" name="Download Final Fantasy Record Keeper" description="Take a short trip down memory lane with Final Fantasy Record Keeper. Revisit all of your favourite moments from Final Fantasy throughout time. Battle your way through familiar monsters and earn some nice loot to customise your party. But don't expect a gripping experience to satiate those Final Fantasy cravings." rev_name="Final Fantasy Record Keeper Review" rev_body="With a score of three stars, FFRK is worth a download for Final Fantasy fans, if only to enjoy the recreation of your favourite heroes in 16-bit format. Don't get your hopes up about revisiting lands from the series as the most you'll be seeing is a familiar backdrop during your battles. If you don't decide to download it, you won't be missing out on much." author="GameReviews AU" pubdate="2015-02-04″ user_review="3″ min_review="1″ max_review="5″ ]