Released in February of 2016, Firewatch took the gaming world by storm with it's trailer. Depicting a game that has you stuck out in the middle of nowhere with strange occurrences going on, the trailer itself was a hit and made everyone desperate to know who the heck was watching you! See the trailer below and read our Firewatch review as well!

Platform Used For Firewatch Review: Gigabyte P35, Intel i7-4720HQ 2.60GHz, 16GB Ram, GeForce GT 965M
Developer: Campo Santo
Genre: Mystery, Adventure, Indie
Recommended If You Liked: Gone Home, The Witness, Life is Strange
Price: $19.99USD
Rating:


Firewatch Trailer

Starting off with a few brief cutscenes accompanied by short paragraphs of text, Firewatch sets the mood. You play as a man called Henry (expertly voiced by Rich Sommer) and we come to learn that Henry meets a girl, falls in love, gets a dog, gets married, and eventually he and his wife get confronted with a difficult future.
It amazed me how effective the short paragraphs conveyed the initial moments of the story. I sat there nearly in tears just five minutes into the introduction. Campo Santo have managed to do what most authors struggle to do their entire lives by creating a few lines of text that have you immediately falling in love with the characters involved.
"I sat there nearly in
tears just five minutes
into the introduction"
During these fully interactive cutscenes and screens of text, multiple choice answers pop up allowing you to choose different ways to approach the different parts of the introductory story. Even now that I've finished Firewatch, I still have an urge to go back in and choose to do everything (and I mean EVERYTHING) a completely different way.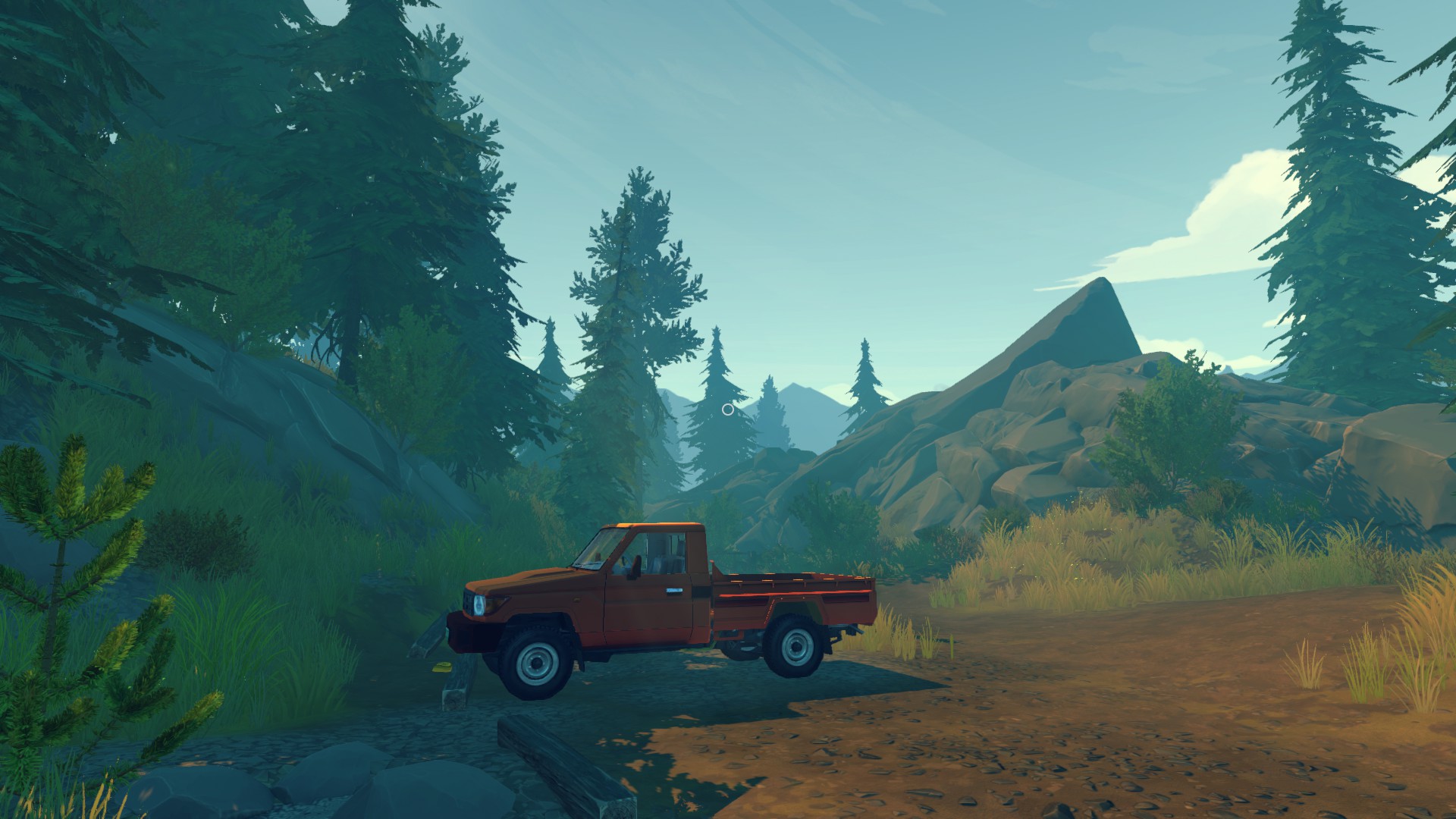 Eventually Henry takes the opportunity to become part of the firewatch at a lookout area in Two Forks, Wyoming. Here he meets a fellow member of the firewatch and eventual best friend, Delilah (beautifully voiced by Cissy Jones), via means of walkie talkie. It's using this means of communication that Henry grows closer to Delilah.
As you do your daily duties in and around the Two Forks region, you start to notice something is a bit strange. A shadowy figure is seen watching you from the top of a hill, Delilah is overheard talking to someone else on another comms channel, and more. Each time you stumble across a strange occurrence, your curiosity gets piqued even further.
Gameplay
Apart from what I have mentioned above, there's not a lot more I can divulge about the story without spoiling anything. But that's the gist.
Playing Firewatch is a joy in itself. When you're not conversing with Delilah via your walkie talkie, (or even whilst you are chatting) you get the privilege of exploring one of the gaming world's most beautiful environments created. Boulders, trees, shrubs and heaps of other nature related things adorn the Two Forks area and it all looks marvelous. The drawing style of everything environment related almost looks realistic, but when you see some of the photographs of characters in the story, you notice they are quite cartoonish. Almost Disney Pixar-esque. That's what makes Firewatch stand out so well in my opinion. It's just so unique and along with the great mysterious plot, Firewatch sucks you in completely.
That being said, the ending isn't exactly what you'd expect, or what you want. I'm not going to say anything about what happens, but basically you won't see it coming, which I guess is quite a good thing!
Continue reading on the next page…
[schema type="review" url="http://store.steampowered.com/app/383870/" name="Firewatch on Steam" description="Released in February of 2016, Firewatch took the gaming world by storm with it's trailer. Depicting a game that has you stuck out in the middle of nowhere with strange occurrences going on, the trailer itself was a hit and made everyone desperate to know who the heck was watching you!" rev_name="Firewatch Review" rev_body="Overall Firewatch is a stunning experience to put yourself through and if you're a fan of mystery games, you should be heading over to Steam to purchase yourself a copy." author="GameReviews AU" pubdate="2016-05-09″ user_review="4″ min_review="1″ max_review="5″ ]