Platformer games are an age-old, tried and true concept which can always give retro gamers that little pleasurable scratch on the nostalgia bone. George: Scared of the Dark provides a basic coverage of platformer gameplay and adds in a little bit of mystery with it's story. But does it provide enough? Read more in our George Scared of the Dark review.

Platform Used For George Scared of the Dark Review: iPad 2
Developer: Wall West
Genre: Adventure, Indie, Platformer
Rating:

George: Scared of the Dark is a recently released platformer by Wall West. You play as a ghost who, for some reason, is scared of the dark. This particular ghost named George is incredibly cute, and as far as cute things go, they are usually scared of stuff!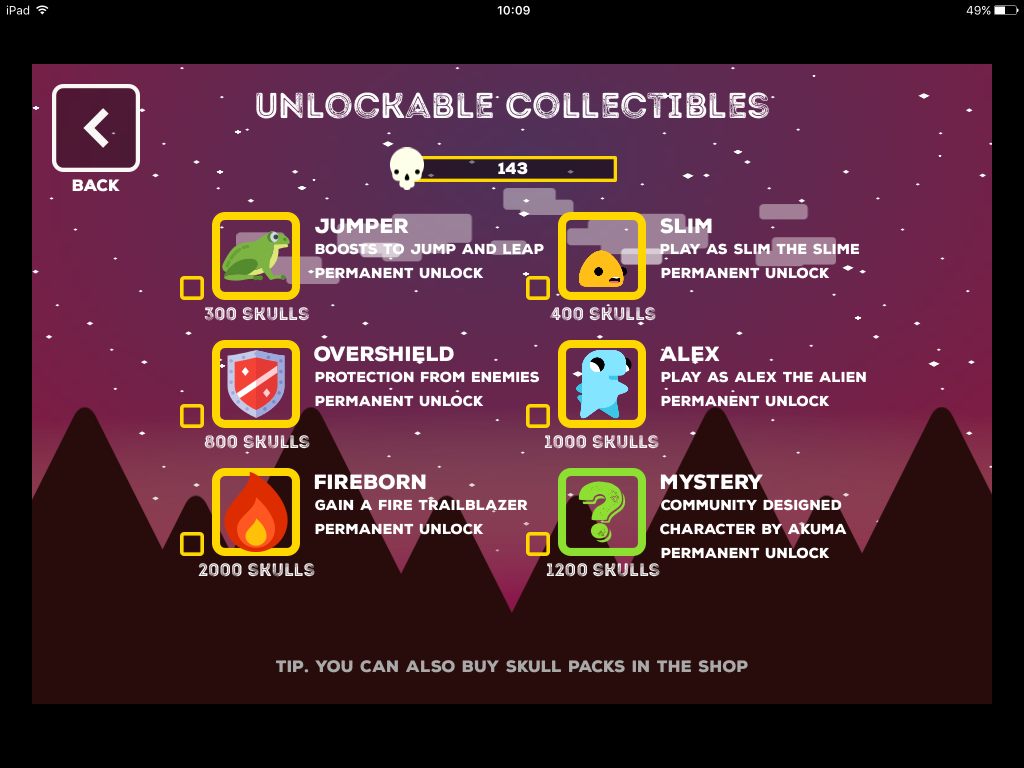 The gameplay is simple and could be considered quite addictive due to it's relatively unforgiving difficulty. Each level has you jumping across bottomless pits, onto higher platforms and over imaginatively created monsters as you head towards the end goal collecting skulls along the way. Skulls act as the currency which allow you to unlock specific upgrades that provide advantages to gameplay or change who you play as.
George: Scared of the Dark is really quite challenging due to the sheer fact you die in one hit, your reflexes need to be on fleek, and there are no checkpoints throughout levels. It's just as you remember games from the past to be where you have to complete a level or start again when you die. That being said, once you've completed a level, the next one becomes available, or you can re-do a level if you wish.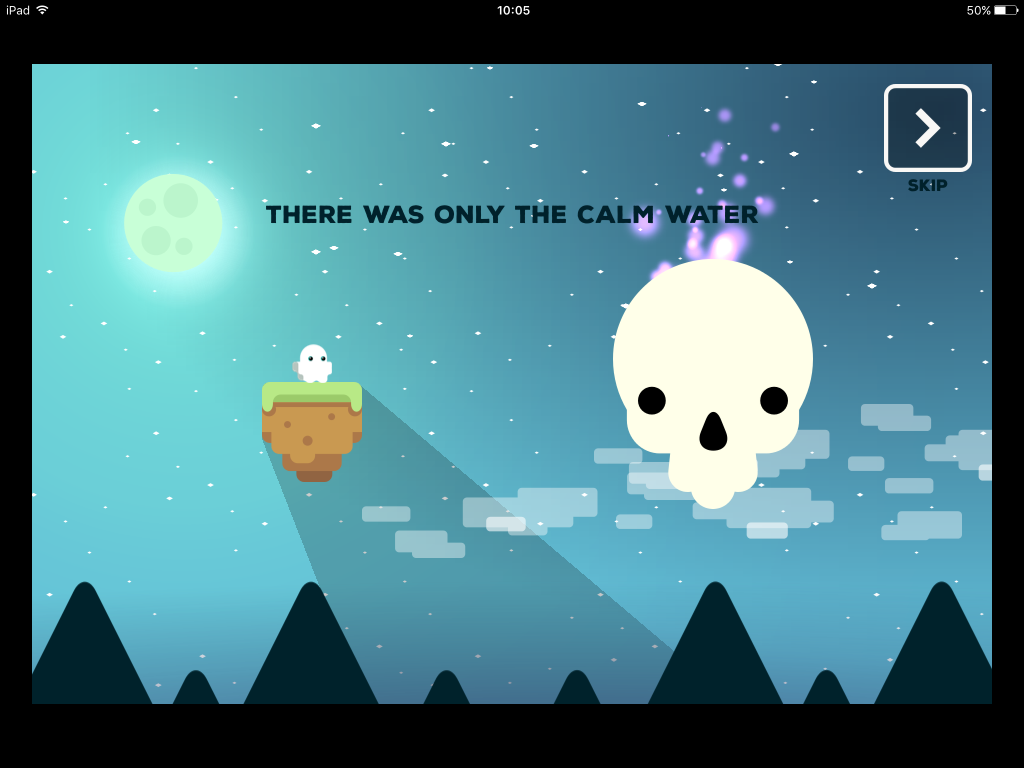 To separate the levels in George: Scared of the Dark, there are little cutscenes to provide a mysterious story. These cutscenes mainly involve George and a giant floating skull who spouts philosophical-sounding narrative. Basically it's up to you to guide George through these levels and help him overcome his fear of the dark.
As I mentioned earlier, each level is populated by imaginatively designed monsters who try their best to get in your way and essentially kill you… although you're already dead! Hahaha! (nice little One Piece reference there.) In my opinion, what makes this game is the cute, yet very attractive, art style. Expect lots of colour and clean edges.
The downside to George: Scared of the Dark is the gameplay isn't that special. You're basically jumping from platform to platform until you reach the end. There are no special powers and no jumping on enemies' heads, but there are a lot of deaths where you'll have to start over. Not only that, but each level is timed to prompt you to try and complete a run quickly. By doing so, you'll get a better chance of earning a three star ranking at the end.
Aesthetic Charm
I really do like the graphics, art style and design. All those colours are very enticing and will probably lure a lot of people to check it out. The music is rather relaxing to listen to whilst you're bouncing along and the sound effects are far from offensive.
Final Thoughts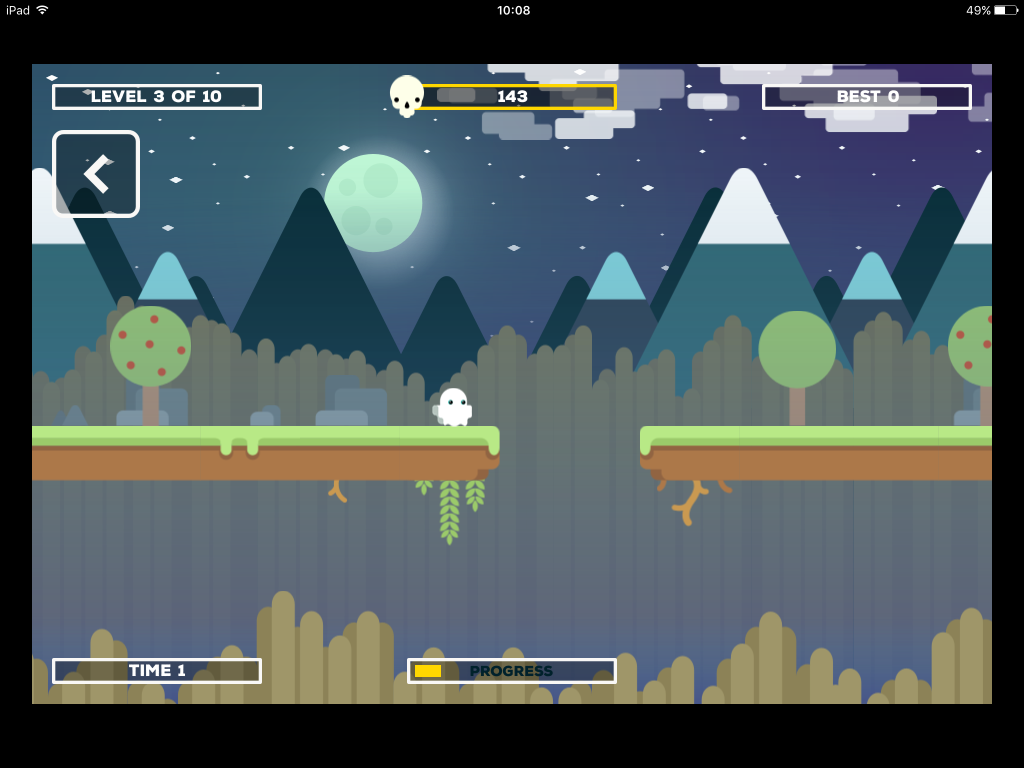 This is a good game to pick up and play for a short duration. It's not something you're going to play for hours on end and have incredible memories from, but it is something to keep you occupied for a time.
The small price tag makes it a little bit more attractive, but I feel with a few extra additions like powers/powerups of some variation, George: Scared of the Dark could have done much better as a free-to-play title with in-app purchases.
If you like basic platformers or perhaps want something cute to let your little one play, check out George: Scared of the Dark.

Score

3 stars – cute graphics, mysterious story but a little samey


Pluses:
Graphics are incredibly cute and charming
Platformer goodness is fun
Story keeps you wanting to understand more

Minuses:
You can only be enthralled by the gameplay for so long
[schema type="review" url="https://itunes.apple.com/au/app/george-scared-of-the-dark/id1062307859?mt=8&at=11l32yZ" name="George Scared of the Dark" description="Platformer games are an age-old, tried and true concept which can always give retro gamers that little pleasurable scratch on the nostalgia bone. George: Scared of the Dark provides a basic coverage of platformer gameplay and adds in a little bit of mystery with it's story. But does it provide enough?" rev_name="George Scared of the Dark Review" rev_body="If you like basic platformers or perhaps want something cute to let your little one play, check out George: Scared of the Dark." author="GameReviews AU" pubdate="2016-08-01″ user_review="3″ min_review="1″ max_review="5″ ]