Return to the Victorian-era mansion from the original Layers of Fear game, but this time as the insane painter's daughter. Step into her shoes as she gets caught up in the insanity of her father and lives through some painful and haunting memories. Read the rest of our Layers of Fear Inheritance review below.

Platform Used For Layers of Fear Inheritance Review: Gigabyte P35, Intel i7-4720HQ 2.60GHz, 16GB Ram, GeForce GT 965M
Developer: Bloober Team SA
Genre: Adventure, Indie, Horror
Recommended If You Liked: P.T., Among The Sleep, Outlast
Price: $4.99USD
Rating:

In Layers of Fear: Inheritance, the DLC for Layers of Fear, you take control of the insane painter's daughter as she returns to the mansion from the original game. The mansion has greatly changed since you first entered it, but the general layout is still the same. The painter's daughter returns to her childhood home to face her past, and in doing so, learns more about her father.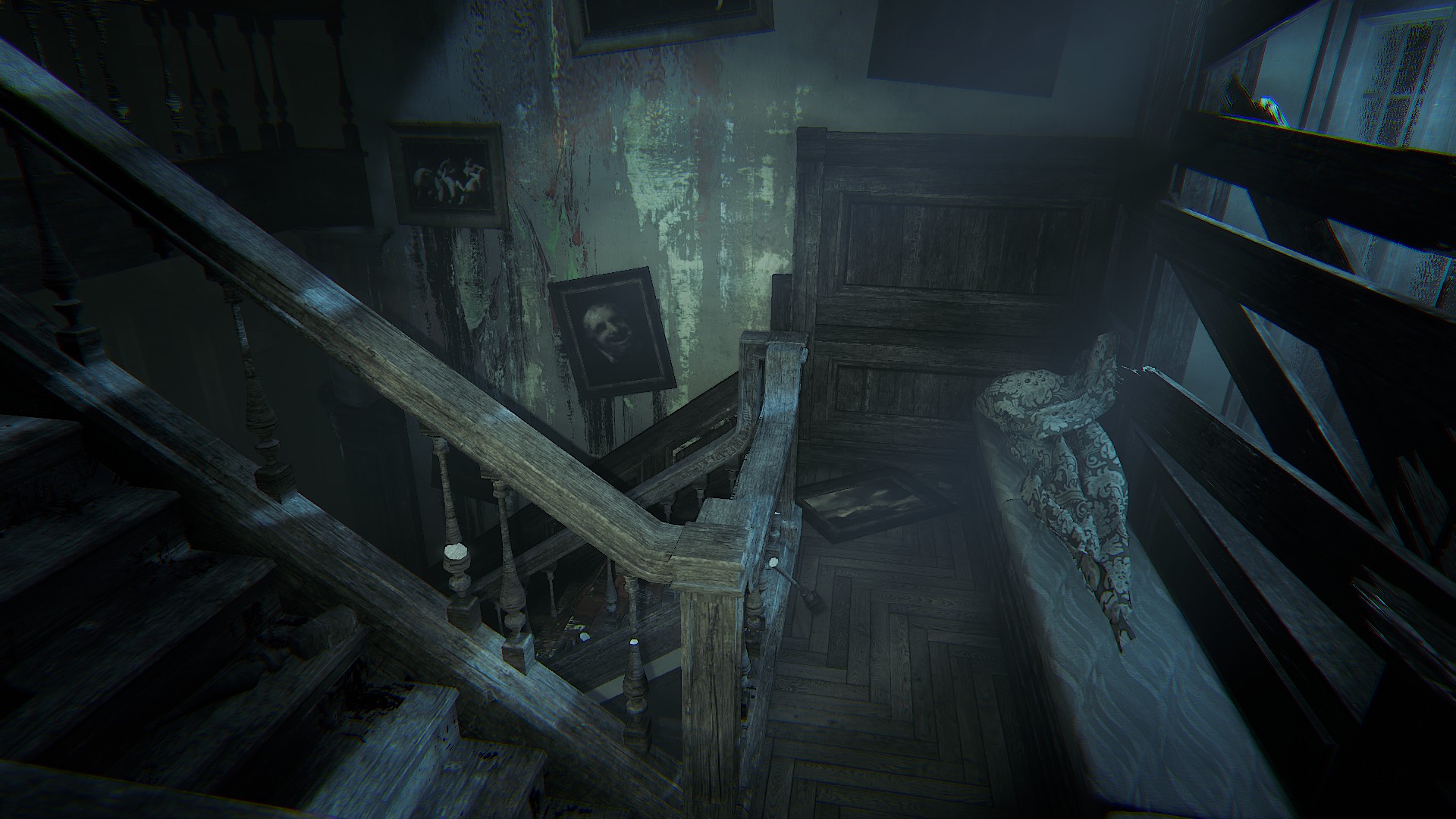 Everything is much the same as the original game. Rooms are located in the same place, but seeing as it's been quite a while since anyone has resided in them, they've obviously aged and changed. Inheritance is a lot smaller than the original and doesn't take as long to finish, so there aren't anywhere near as many twists and environmental changes as you previously experienced.
The amount of new story to uncover is just enough to keep you trudging through the dilapidated house, and the extra memory scenes involving how the painter was involved in his daughter's childhood are revealing and sometimes a bit disturbing. Don't worry though, they're not so disturbing so as to put you off playing the game, but you'll see what can happen when a parent becomes a little overbearing.
These memories remind me a fair bit of Among The Sleep, where the protagonist is a toddler. Therefore you see a lot of the world from the perspective of a small child. Doors and desks loom intimidatingly above you and most of the environment is blocked from view due to your height.
Final Thoughts
Layers of Fear: Inheritance is really quite short, clocking in at around an hour and a half of gameplay. But despite the shortness, Inheritance isn't a bad little bit of DLC to dive into if you enjoyed the original Layers of Fear game. However, when you're paying money, even if it's a few dollars, for an extra bit of gameplay, it would be nice to be provided with more.
I highly recommend playing through the original Layers of Fear before even contemplating forking out the money for this DLC. But if you were hooked on Layers of Fear, you'll have quite a fun time playing through Inheritance.
Score

3 stars – an interesting but short follow-up to the original with more story to learn


Pluses:
Same stunning graphics
More awesome environmental change effects
Learning more about the insane painter from the original game is incredibly interesting

Minuses:
Even less scary than the original
A little bit too short
[schema type="review" url="http://store.steampowered.com/app/493530/" name="Layers of Fear Inheritance on Steam" description="Return to the Victorian-era mansion from the original Layers of Fear game, but this time as the insane painter's daughter. Step into her shoes as she gets caught up in the insanity of her father and lives through some painful and haunting memories." rev_name="Layers of Fear Inheritance Review" rev_body="Layers of Fear: Inheritance is really quite short, clocking in at around an hour and a half of gameplay. But despite the shortness, Inheritance isn't a bad little bit of DLC to dive into if you enjoyed the original Layers of Fear game. However, when you're paying money, even if it's a few dollars, for an extra bit of gameplay, it would be nice to be provided with more." author="GameReviews AU" pubdate="2016-08-29″ user_review="3″ min_review="1″ max_review="5″ ]