As I sat there rocking my 10 week old baby boy to sleep in his bouncer, I thought I had a few minutes to spend trying out Resident Evil 7: Biohazard. Those few minutes eventually turned into hours and thanks to my little boy, he stayed asleep for that whole time! Plus, if it weren't for the comfort of having him nearby, I probably would have exited the game very quickly because I was so freaked out by it. Read our Resident Evil 7: Biohazard review below to find out more!

Platform Used For Resident Evil 7: Biohazard Review: Metabox Prime P650RP-G, NVIDIA GeForce GTX 1060 6GB GDDR5 VRAM with G-Sync, Intel Core i7-6700HQ Processor (6M Cache up to 3.50 GHz), 16GB DDR4 2133MHZ (1 x 16GB)
Developer: CAPCOM Co., Ltd.
Genre: First-person horror survival
Recommended If You Like: Among The Sleep, SOMA, Any Resident Evil Game
Price: $59.99USD
Rating:

Resident Evil is back and better than ever! With the stigma associated with RE:6, a lot of gamers seemed to be backing away from the genre-defining series. RE:6 had a lot of problems that I myself would have to agree with, such as the Mercenaries mode lacking the same excitement and satisfaction it did with other RE games, especially the 3DS game Resident Evil: The Mercenaries 3D.
Taking things in a completely different direction, the team at CAPCOM have redefined the horror survival genre. Sure, P.T. seemed to do it first, but with the cancellation of such a promising game, Resident Evil 7: Biohazard picks up the broken pieces of what would have been Silent Hills and puts it's own twist on the concept. A twist I find completely distances itself from what P.T. set out to accomplish.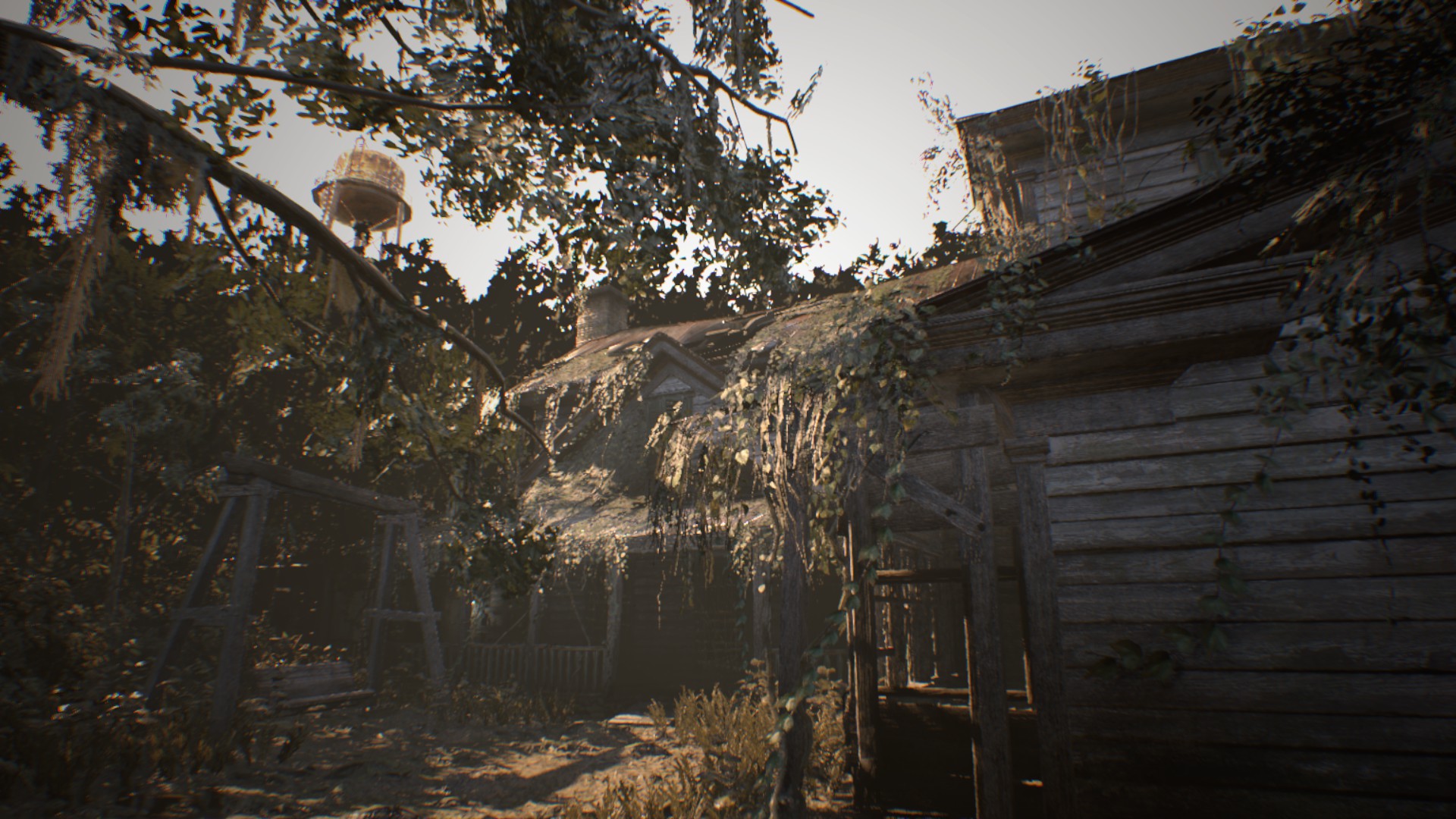 The Resident Evil series doesn't feel like it's been the same since RE:4 in my opinion. After that, the series seemed to go down an action genre road, mixed with mutated monstrosities. The feeling of fear associated with RE:1 through to the RE:4 was lost. RE:5 and RE:6 just felt like action games set in the world of Resident Evil.
Resident Evil 7: Biohazard is still set in that familiar world but it moves completely away from the paths of Leon Kennedy, Jill Valentine, Robert Wesker et al. This time you play as someone we've never met before called Ethan. Resident Evil 7: Biohazard is supposedly set after the events of RE:6.
Ethan receives a mysterious email from his wife who had disappeared three years previously. The email is very vague and only says, "Dulvey, Louisiana. Baker farm. Come get me." Of course wanting to know what happened to his wife, Ethan sets off straight away and eventually find himself in a bayou outside a run-down Southern manor.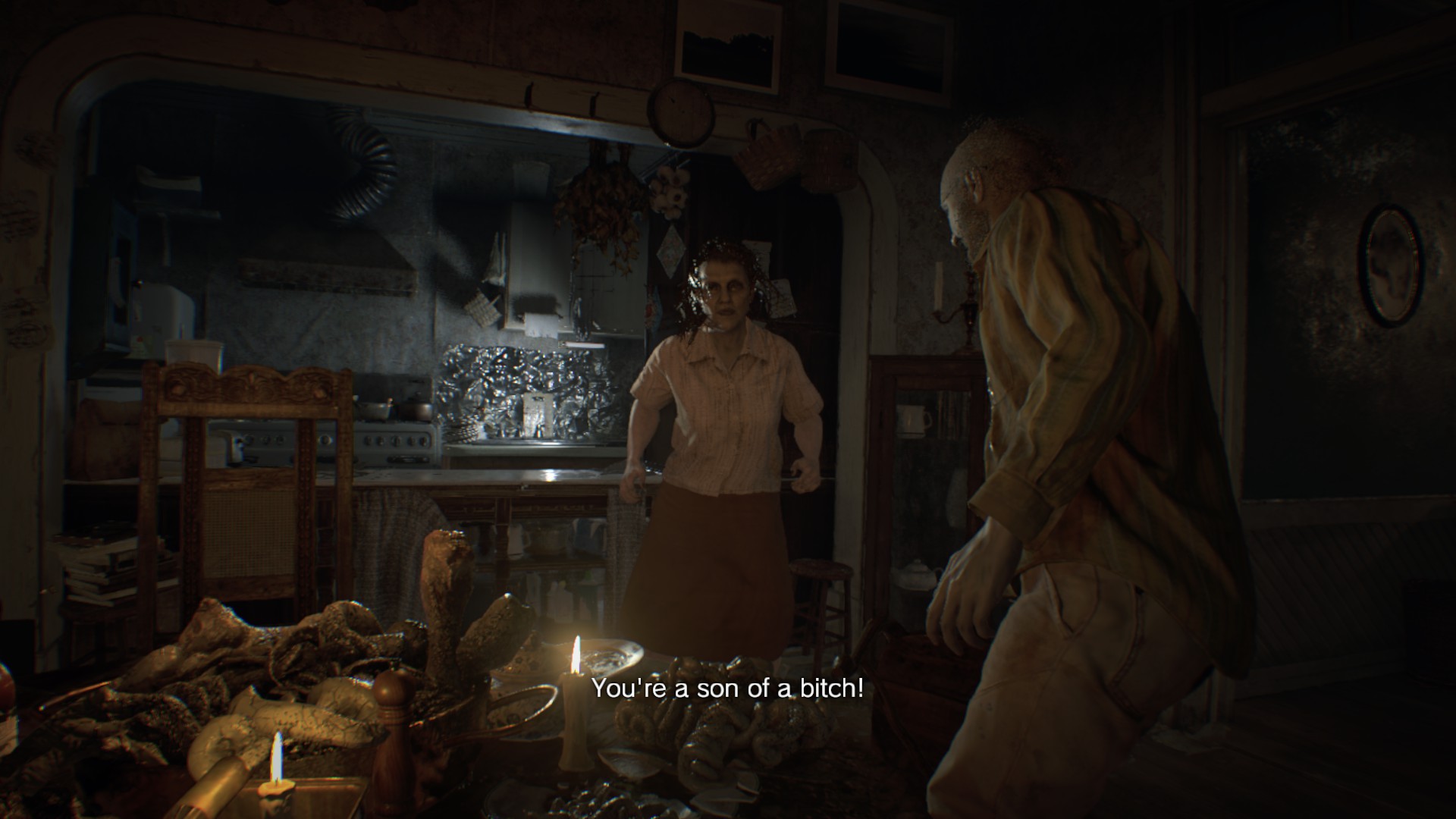 This is where everything begins. As soon as you enter that house, your gaming experience will be filled with fear, exhilaration, disgust, wonder and many other feelings that will altogether heighten your new Resident Evil experience. I don't want to spoil too much of the story but this house you're in has some pretty messed up individuals residing in it. I can however, tell you there are multiple endings to achieve!
The game is played entirely from a first-person point of view, something that has never been done by a Resident Evil game. Playing the whole game from this aspect adds so much more fear to the experience, especially when you're sprinting down a hallway knowing you have a crazed man wielding a massive sledgehammer on your tail.
It's no longer about churning through zombies and clearing the area so you can progress
It's these feelings of fight or flight that fill you with adrenaline, and not being able to see the area around you as easily as a third-person view would allow really puts you on edge. I can imagine playing Resident Evil 7: Biohazard with a VR device would seriously cause some pretty nasty nightmares.
One such part of Resident Evil 7: Biohazard that I found quite interesting was playing through the eyes of other characters. As you explore the game, you'll come across video tapes to watch. When you watch them, you get to control the person who's filming. This doesn't just provide a bit more game to play, but also fills in gaps of the story.
Gameplay mechanics we are familiar with in RE games make an appearance such as hunting down herbs to craft into healing agents, saving your scarcely found ammunition, solving those oh-so-missed puzzles we used to love and setting up those all important headshots. Also in amongst Resident Evil 7: Biohazard are secrets to be found. Everyone loves secrets and these come in the form of antique coins scattered about the place and bobbleheads to shoot.
Boss fights are as well thought out as they have ever been, giving you an environment to use to your advantage. One such fight lets you wield a chainsaw against an opponent who also has a chainsaw/scissor hybrid weapon. These boss fights are pretty damn intense!
Some new mechanics also enter the fray such as hiding in shadows to avoid being caught by crazed lunatics. It's no longer about churning through zombies and clearing the area so you can progress, Resident Evil 7: Biohazard truly defines the meaning of horror survival. You need to do what you can to survive.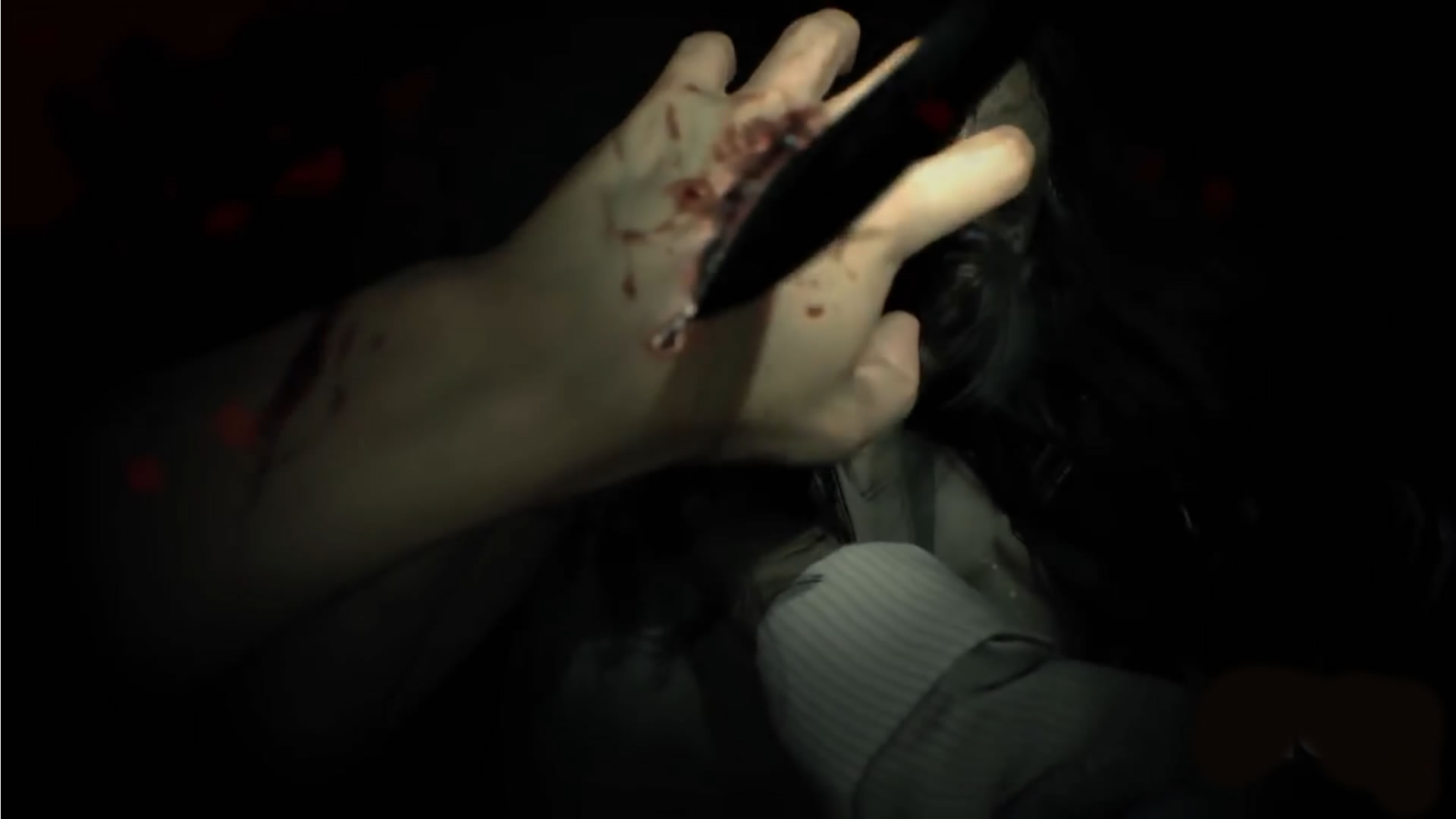 Apart from that, I am particularly impressed with how CAPCOM haven't held back one bit with the gore and brutality. Playing through the eyes of Ethan you see every attack coming your way. As a knife slices it's way through the air toward your body, you get to watch Ethan raise his arm in defense, causing the knife to cut right through the flesh of his forearm. The next attack from the knife results in Ethan grabbing the blade in desperation. It's all so teeth-grittingly realistic but so fascinating and detailed that you can't look away.
Continue reading on the next page…
[schema type="review" url="http://store.steampowered.com/app/418370/" name="Download Resident Evil 7: Biohazard" description="As I sat there rocking my 10 weeks old baby boy to sleep in his bouncer, I thought I had a few minutes to spend trying out Resident Evil 7: Biohazard. Those few minutes eventually turned into hours and thanks to my little boy, he stayed asleep for that whole time! Plus, if it weren't for the comfort of having him nearby, I probably would have exited the game very quickly because I was so freaked out by it." rev_name="Resident Evil 7: Biohazard Review" rev_body="Resident Evil 7: Biohazard is a must-play for everyone. Obviously not for children or those who are squeamish around blood, but everyone else will find something about this game that they'll remember for the rest of their lives." author="GameReviews AU" pubdate="2017-01-28″ user_review="5″ min_review="1″ max_review="5″ ]