Spry Fox LLC have been responsible for many of my gaming addictions. I first became acquainted with their addictive games when I played Triple Town. After that it was Alphabear that kept me captivated for hours on end. Now with Road Not Taken, I can see Spry Fox LLC's imagination never ceases to grow. Read our Road Not Taken review below to find out more!

Platform Used For Road Not Taken Review: Samsung S7 Edge
Developer: Spry Fox LLC
Genre: Rogue-like, Adventure, Indie, Puzzle
Recommended If You Like: The Greedy Cave, Triple Town
Price: Steam – $14.99USD, Apple – $4.99USD, GooglePlay – $6.49
Rating:


When you think of rogue-like games you think of collecting awesome loot, moving square by square and taking on hordes of difficult monsters. Road Not Taken moves the rogue-like genre in a completely different direction by combining what we already know with some of the puzzle concepts Spry Fox LLC have incorporated in their previous games.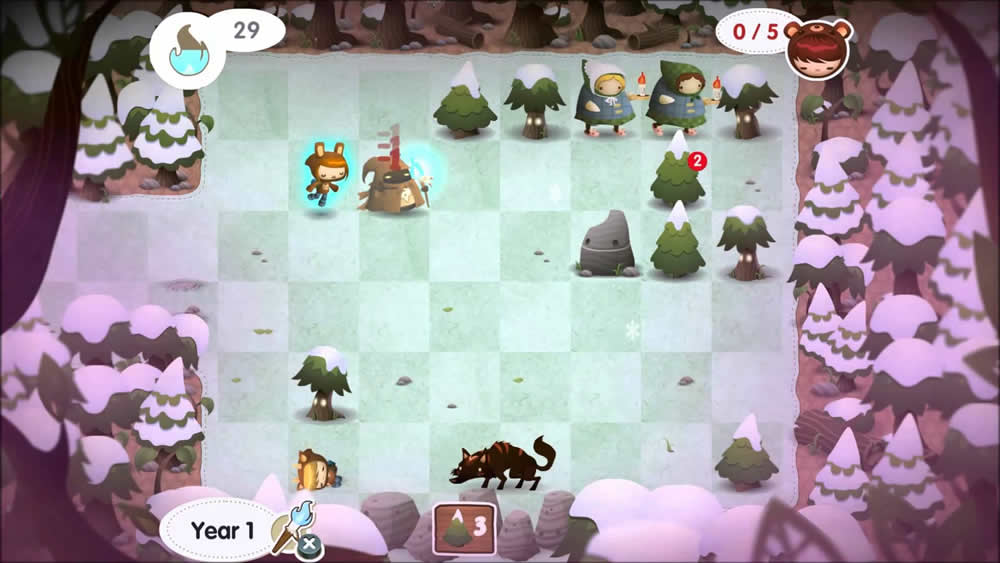 You take the role of a mysterious hooded Ranger as he travels a desolate forest, beaten up after an unforgiving Winter storm. In this forest the Ranger must find children who have lost their way and return them to an adult. Even though the concept sounds relatively tame, you are pitted against some pretty challenging obstacles and creatures.
Each time you venture into the forest, you are greeted with a randomly generated level. Each level is separated into multiple sections, some of which can only be accessed if you meet a prerequisite. These prerequisites come in the form of lining up a specified number of obstacles or creatures.
The entire forest seems to be out to get you and make as much of hindrance as possible.
Moving these obstacles and creatures is no easy feat either. When you begin a level, you start off with a certain amount of energy. This energy depletes when you pick up an obstacle and move with it in your grasp. Each step you take will wear down your energy, but moving isn't the only way you can lose energy. Certain creatures will attack you whilst others, like spirits, will reduce your energy if you walk through them.
If your energy is completely depleted, you will be sent back to the village to start again. The village provides an extra bit of game immersion and creates the story but we'll get to that a bit later. Going back to rescuing children, in order to complete a level you need to rescue at least half of the children considered lost in the randomly generated forest you've entered. The top right of the screen will let you know how many children you need to track down and rescue.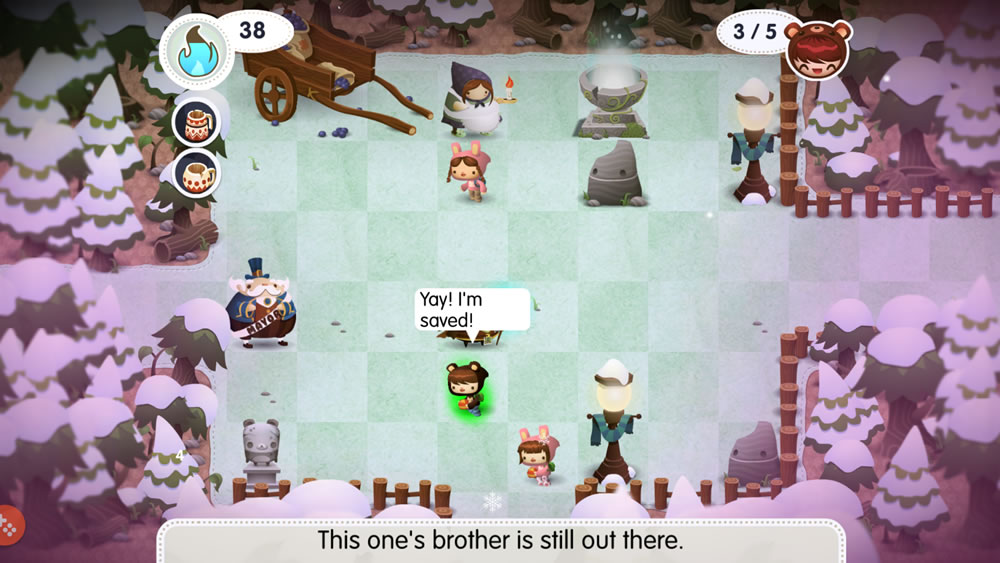 As I said earlier rescuing half, let alone all children is certainly not easy. Moving obstacles out of your way without aggravating potential aggressive creatures is one of the greatest challenges you'll face in Road Not Taken. Lining up certain obstacles to open up the next section of the forest is also quite a feat. Actually locating each child and bringing them to an adult or back to the start of the forest can often end up in complete failure.
The entire forest seems to be out to get you and make as much of hindrance as possible. Especially when you find yourself in an area with a child and a ghost. The ghost will head toward the child and "spirit them away" causing you to have completely wasted all that energy you spent getting to them in the first place.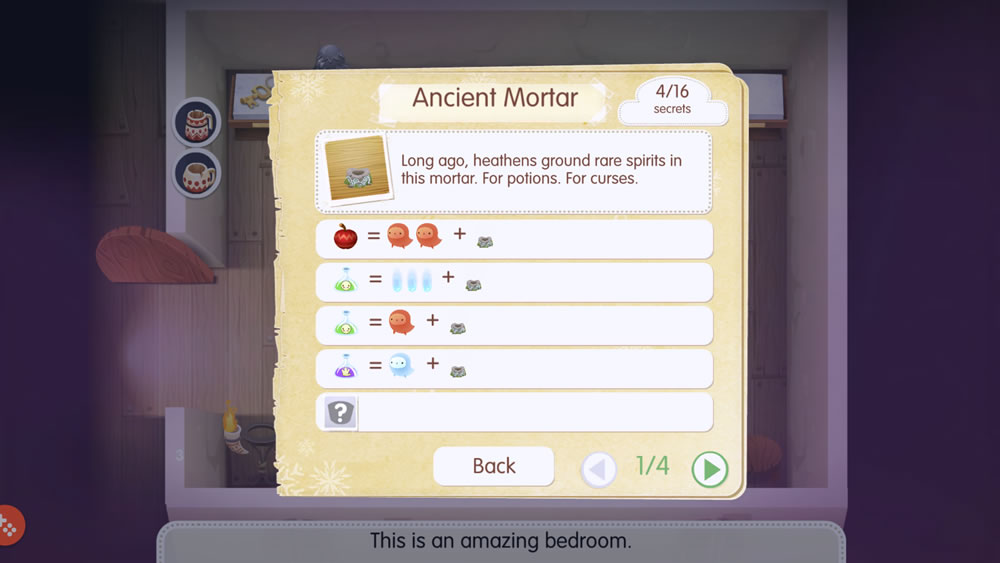 Earlier I mentioned Spry Fox LLC have implemented some of their concept from earlier games. Those who have played Triple Town will know exactly what I'm on about when they start playing Road Not Taken. In Triple Town you place items down on a grid which combine into a new object when enough were placed next to each other. In Road Not Taken, you can pick up and throw obstacles/creatures around the screen and, if they sit next to each other and there are enough of them, will combine into something new. This is there to help you out and to cause more trouble. For example, putting three beehives next to each other will create a jar of honey which restores a bit of your energy. But if you put two Flame Spirits next to one Light Spirit you'll create an Angry Spirit which will hunt you down relentlessly and touch you, depleting your energy.
Everything in the game can be combined and finding out the recipes of what makes what is half the fun. Recipes are revealed to you by people you meet in the forest and also in the Village.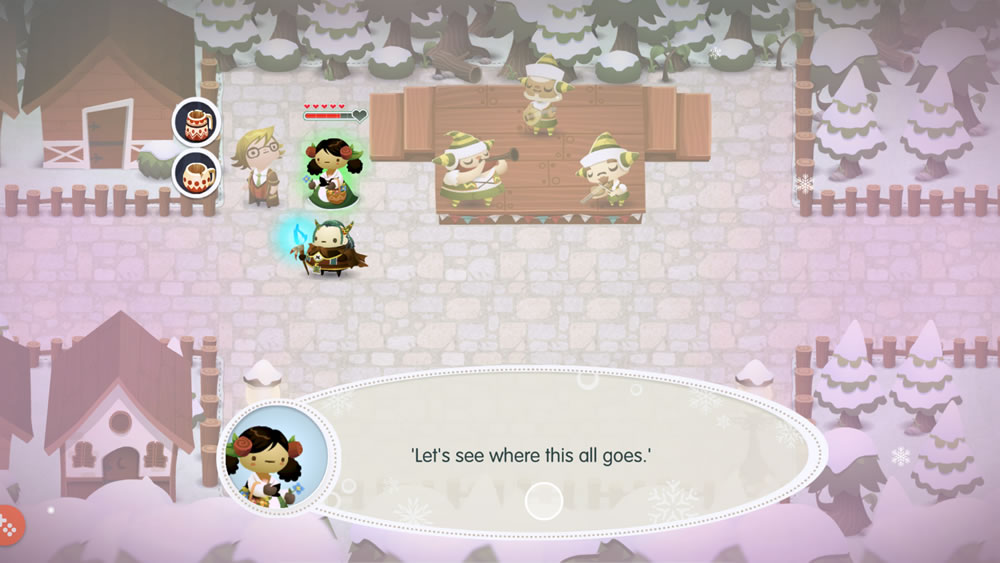 The Village is where you go between levels. In this Village there are people you can talk to and befriend. By gifting them with presents such as berries, coins, rice, bunnies and more things you come across in your journey, your friendship level will increase with them and they will also provide you with trinkets that help you on your adventures and inform you about recipes.
Continue reading on the next page…
[schema type="review" url="https://play.google.com/store/apps/details?id=io.bitcoinbandit.jetpack" name="Download Road Not Taken" description="Spry Fox LLC have been responsible for many of my gaming addictions. I first became acquainted with their addictive games when I played Triple Town. After that it was Alphabear that kept me captivated for hours on end. Now with Road Not Taken, I can see Spry Fox LLC's imagination never ceases to grow." rev_name="Road Not Taken Review" rev_body="The sheer beauty of Road Not Taken is enough to download it and no-one will be able to pick this up and say it didn't challenge them." author="GameReviews AU" pubdate="2017-01-20″ user_review="4″ min_review="1″ max_review="5″ ]