Indie developer AlgoTech, a group of gaming enthusiasts into game development, have recently released a neat free-to-play game called Spread the Number. Read more in our Spread the Number preview below!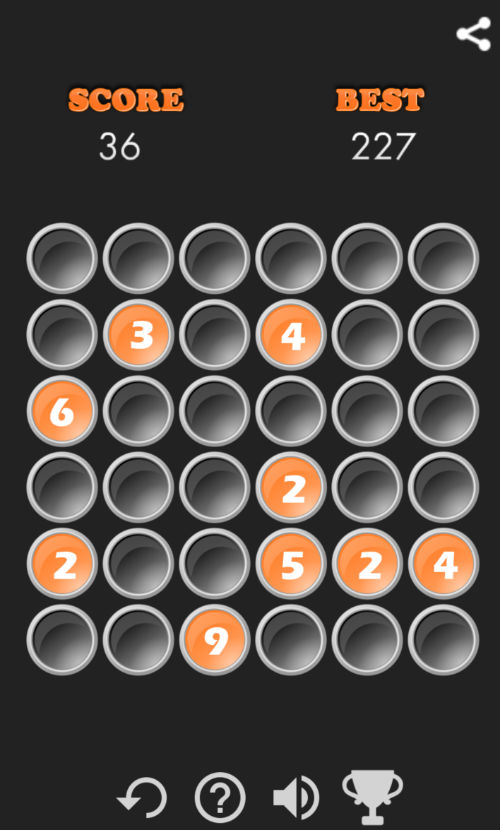 Played on a six by six board, Spread the Number starts you off with two random numbers. These numbers can be dragged around the playboard, circle by circle. Each time they move, the number will decrease by one.
The idea of the game is similar to games like Puyo Puyo or Dr. Robotnik's Mean Bean Machine where you match coloured beans. In Spread the Number, you match up numbers to earn points. So ideally what you want to do is drag the numbers around as few times as possible to retain a high number. Putting the numbers next to each other will cause them to 'pop' at the end of your turn, giving you points equivalent to the sum of all numbers 'popped'.
For example, if you placed three number eights together so they're touching, they will all pop once you've finished your turn and reward you with twenty-four points. So the higher the numbers you match, the more points you'll acquire.
If you move the numbers around too much until they tick down to the number one, they will stay like that and you won't be able to move them around anymore. The only way to rid the board of ones is to put other ones next to them.
After each turn, two more numbers will be randomly placed on the board. Once the entire board is filled with numbers, the game ends and your final score is calculated.
Features of Spread the Number Preview:
Challenging gameplay requiring you to plan ahead and strategise
Use your numerical skills to set up the best combos
Smooth and satisfying gameplay
Basic, uncluttered, easy to get used to user-interface
Sharp and stylish fonts to add that extra touch of design
Compete with others using your GooglePlay account and compare scores on the leaderboard
Free-to-play
Spread the Number screenshots
Spread the Number looks like a very promising game for those who enjoy puzzles. So go ahead and support the developers by downloading their game for free from the link at the top of this page or right below.
Download Spread the Number from the GooglePlay Store for free today!