Virtual slots games can be surprisingly fun when you sit down and set aside some time to enjoy the effects and dizzying highs of winning. However there are so many iterations of an overdone genre that it's hard to find a decent one. Starburst by NetEnt happens to be an extremely good one to enjoy. Read our Starburst review below to find out more!

Platform Used For Starburst Review: Metabox Prime P650RP-G, NVIDIA GeForce GTX 1060 6GB GDDR5 VRAM with G-Sync, Intel Core i7-6700HQ Processor (6M Cache up to 3.50 GHz), 16GB DDR4 2133MHZ (1 x 16GB)
Developer: NetEnt
Genre: Virtual slots
Price: Free to play
Rating:


NetEnt are the genius game development team behind games such as Aliens Video Slots and South Park Video Slots. Their versions of virtual slots games are so highly detailed and deliciously animated that it's hard to put them down purely for their aesthetic charm.
Starburst is one of their more colourful iterations of video slots games. Featuring high-paced gameplay, stunning jewels to play with and five reels with three rows, fans of video slots games will find this particular game from NetEnt to be highly energising.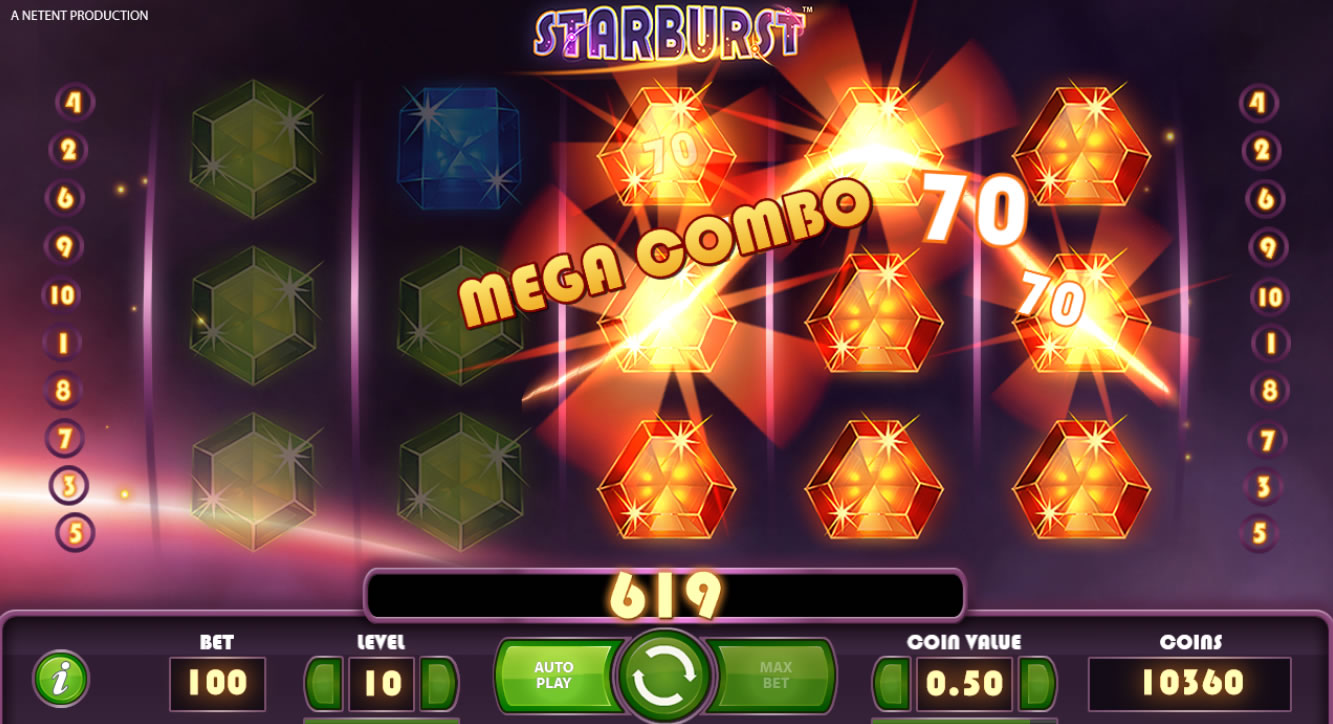 The usual video slots concept applies to Starburst as you select how much money you'd like to bet on a spin, press the spin button yourself or set up automatic spins and hope that those reels give you something that matches. Obviously the more matches you get, the higher your payout will be, and the more you bet, the more coins you'll receive.
In Starburst you might find yourself lucky enough to receive stars from your spin. These stars act as "wildcards" which expand over the entire reel and remain in place for up to three free spins. These spins build up quite an anticipation for winning and you can only gaze on in awe as the colourful jewels line up and the screen lights up when you score a huge win.
The win anticipation in Starburst is particularly high. With so many colourful jewels to match, potential Starburst wildcards, lucky sevens and Bar slots, you won't be able to stop yourself from pressing that spin button over and over again.
For the true thrill seeker, you can even change how much one coin is worth. You start off with a good deal of coins to start with, but if you really want to see those big wins, you can set each coin to be worth up to ten times it's initial value. By doing this and increasing the level of your bets, you're very likely to see some big payouts when you eventually win.
Aesthetic Charm
As I mentioned previously, the graphics and effects in Starburst are so exciting to watch that you could play purely for this aesthetic charm. Graphics are detailed and sharp, win effects are stimulating and energising to behold and when you mix that with the euphoria of winning, Starburst does a magnificent job of being an entertaining video slots game.
Final Thoughts
For lovers of video slots games, Starburst is a great one to pick up and play. You can even play on your computer by going to the NetEnt website.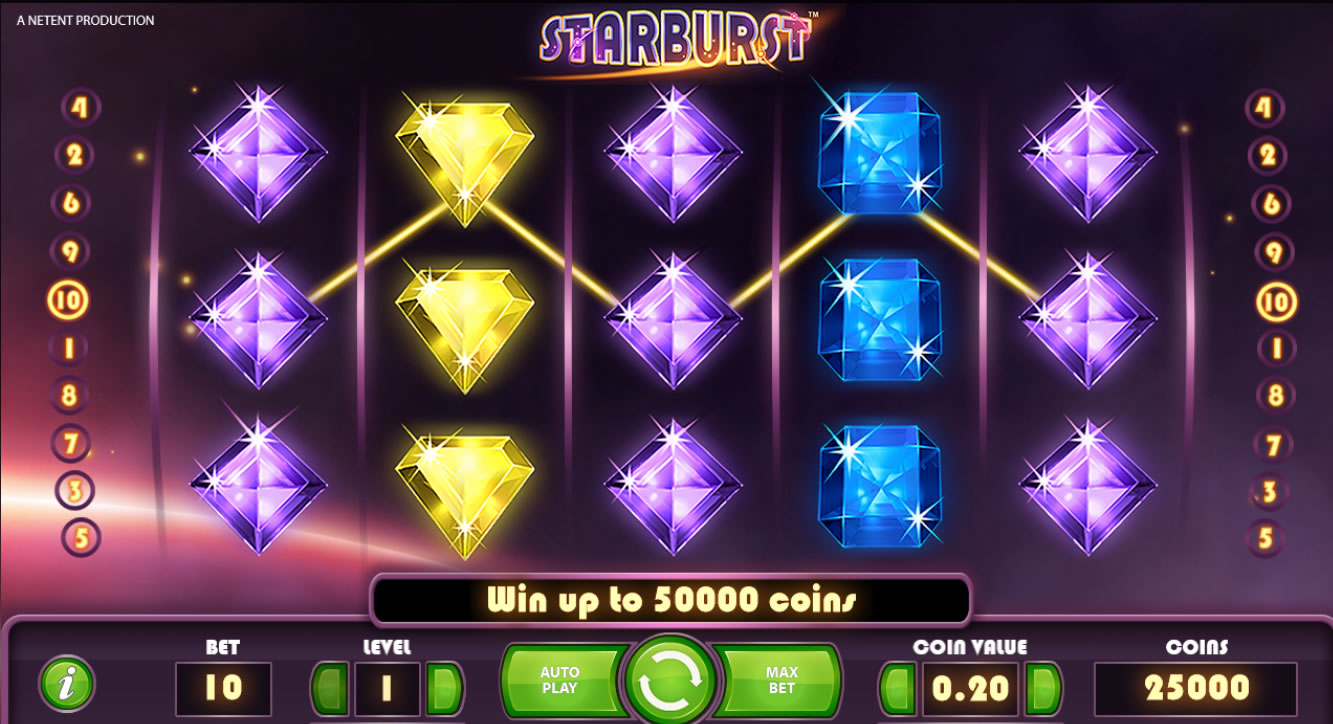 Video slots beginners will also have a great time learning what the genre is all about. The interface is very minimalist which makes it easy to use and the reasonable amount of buttons to press takes away all intimidation of playing a slots game.
Also being a game that doesn't use real money, you can rest assured that you won't be losing anything by playing. But then again, if you win big, you might find yourself wishing there was real money at stake!
Either way, Starburst is a great game to download, sit down in front of the TV and relax with. Gamers of all ages could very easily find Starburst to be the next game that has them glued to their device for hours.
[schema type="review" url="https://itunes.apple.com/au/app/starburst-slot-machine-2015/id998716458?mt=8&at=11l32yZ" name="Download Starburst" description="Virtual slots games can be surprisingly fun when you sit down and set aside some time to enjoy the effects and dizzying high of winning. However there are so many iterations of an overdone genre that it's hard to find a decent one. Starburst by NetEnt happens to be an extremely good one to enjoy." rev_name="Starburst Review" rev_body="Video slots beginners will also have a great time learning what the genre is all about. The interface is very minimalist which makes it easy to use and the reasonable amount of buttons to press takes away all intimidation of playing a slots game." author="GameReviews AU" pubdate="2017-02-06″ user_review="4″ min_review="1″ max_review="5″ ]
Score

4 stars – bright, colourful and incredibly satisfying to win


Pluses:
Gorgeous colours, graphics and effects
Plenty of wins to be created

Minuses: