Zombie hunting seems to be all the rage and has been for quite a few years. You've got your first person zombie shooters, budget mobile games that rely on well-known TV shows for players, and now there's a top down, survival style shoot 'em up from Maya Gameworks that throws you head first into the action.

Platform Used For Zombie Hunter Inc. Review: Dell XPS 17, Intel i7 2.00GHz, 8GB Ram, GeForce GT 555M 3GB
Developer: Maya Gameworks
Genre: Action, Indie
Price: $9.99USD
Rating:

Gimme The Gist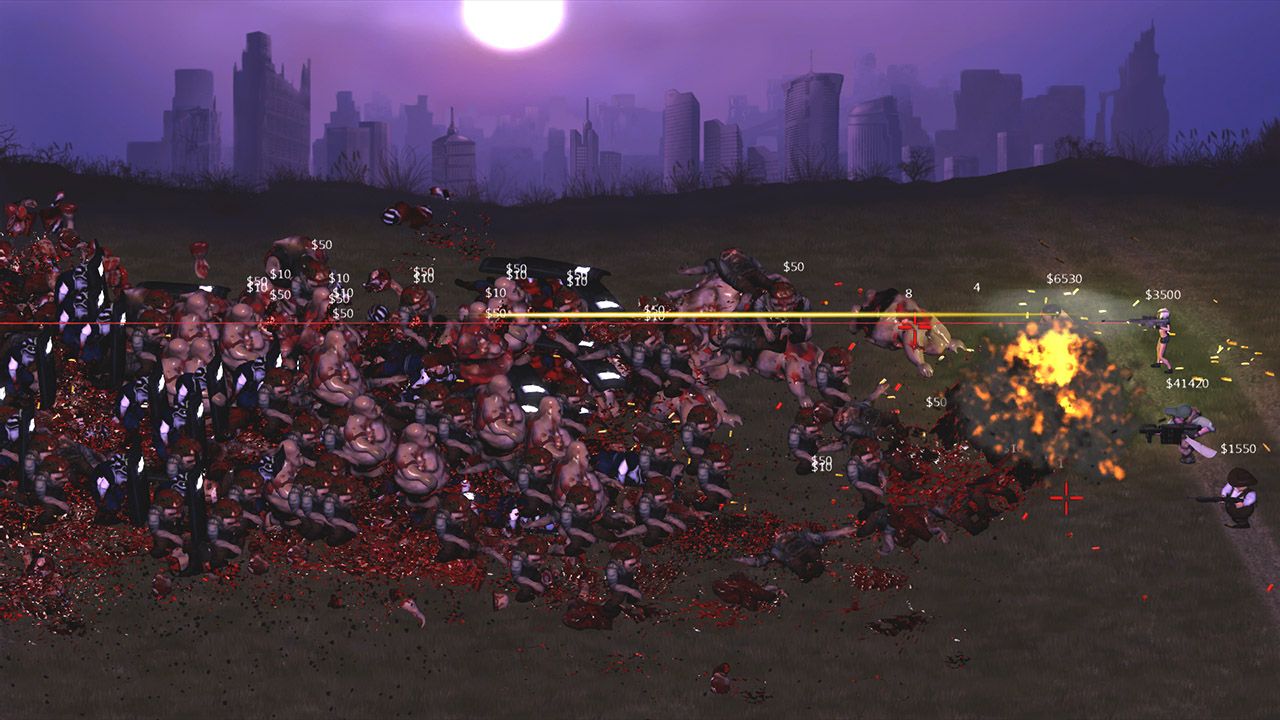 Zombie Hunter, Inc. follows a very basic concept. Zombies will run at you and you have to kill them. However, there is a slight twist that provides more of a challenge. You can only fire horizontally in the direction you are facing by pressing the mouse button.
Zombies will come at you from the left or right, sometimes even from above or below you. You need to move your character using 'WASD' so your weapon's crosshair is lined up with whichever baddy you want to fire at.
Changing direction is as simple as pressing the 'F' key by default. However I feel that firing entirely on a horizontal level lacks depth and entertainment. Seeing as you are already firing by using the mouse, it makes more sense to aim your crosshair with the mouse as well.
Enemies pack a mean punch and can very quickly overwhelm you, leaving you desperate for a health pack, or utterly decimating you to the point you have to restart or exit.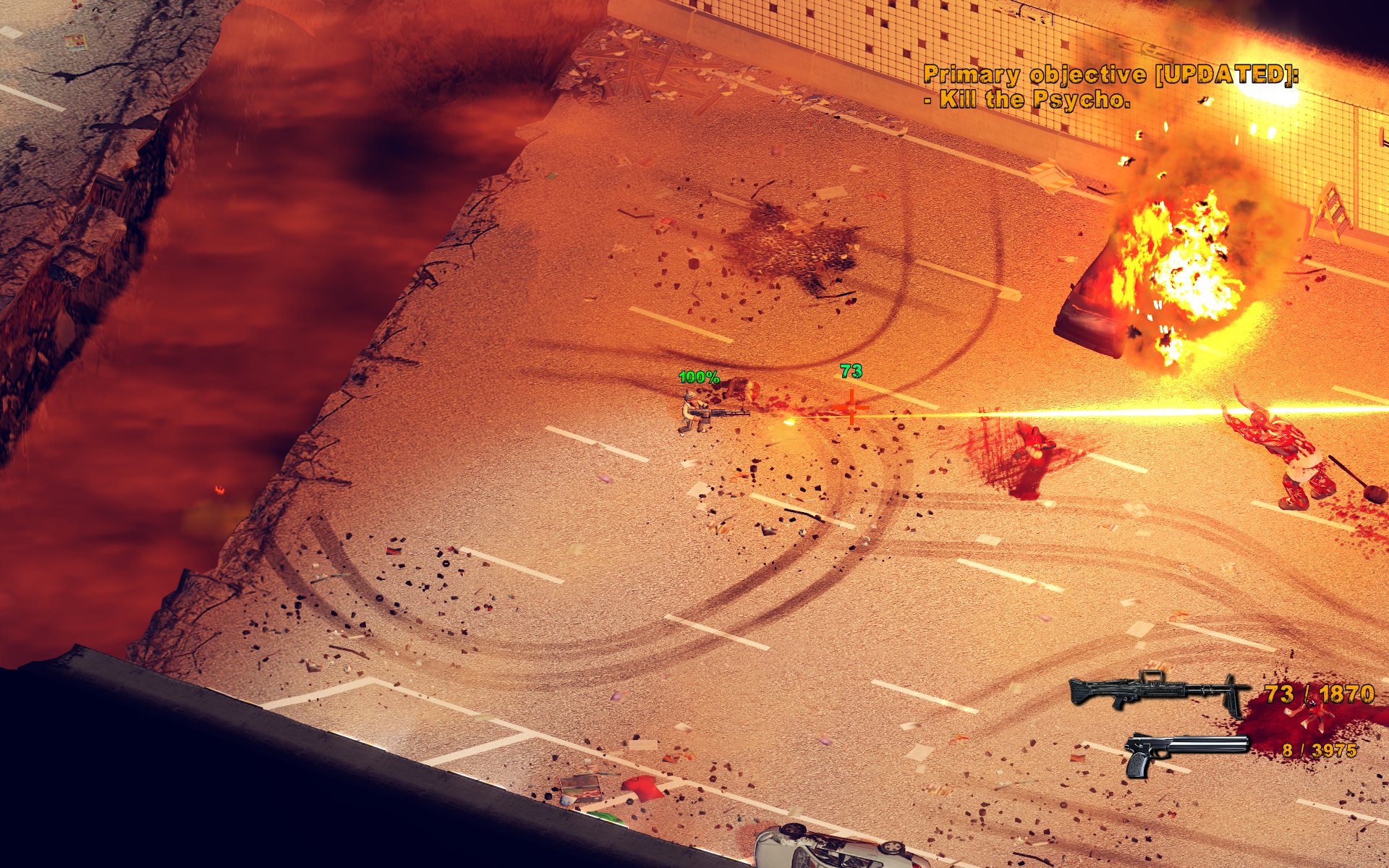 Speaking of enemies, I feel Maya Gameworks have put together a good contrast of zombies. There are the regular walking dead which slowly approach, runners that charge at a faster speed, larger zombies that absorb a lot of your hard-earned ammunition and some zombies that accurately aim at you and spit poison underneath your feet.
The range of enemies is great and it certainly adds to the difficulty of the game but some might find the masses of zombies a little bit too overpowering. Especially when you try out the first level of the campaign.
Aside from the campaign there is also a survival mode where you (and a friend if you wish) take on hordes of zombies whilst protecting survivors and upgrading your gear with cash earned from your kills. The fact you can play co-operatively brings about a great social aspect that is sorely desired among gamers.
Aesthetic Charm
The character and enemy graphics are drawn quite nicely and the animations are awesomely put together. Voice acting isn't too bad so thankfully you don't have to cringe whilst listening to the directives being barked at you.
Being able to customise the look of your character also brings about a uniqueness to take pleasure in when running around blasting through the undead.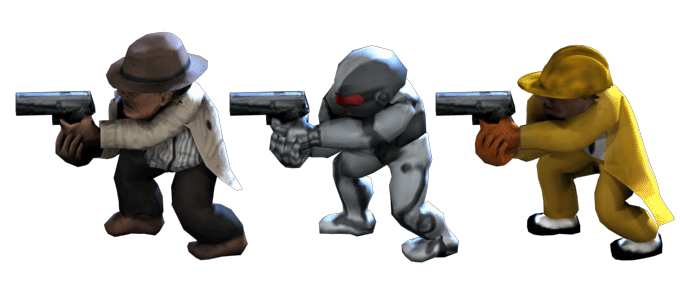 Weaponry is varied and each piece of equipment at your disposal feels satisfying to fire. Shotguns will knock you back with recoil, AK47s will rip through enemies with ease and pistols give accurate aiming for headshots.
Final Thoughts
Zombie Hunter, Inc. is still in early-access on Steam so there are going to be a few hiccups. Sometimes you can end up getting caught on walls and all you can do is watch your health dwindle away until you are dead. Other times you could have the game crash on you, forcing you to restart the whole program. But being an indie developed game, there is a surprising amount of promise in Zombie Hunter, Inc.
At the moment I wouldn't recommend it to anyone who wants a complete game, ready to play. But do keep an eye on it and see what people are saying. There'll come a time when the bugs have been smoothed out, gameplay made a bit more fair and perhaps even more added it to it.
Score

3 stars – has the promise of an entertaining game but at this stage I wouldn't recommend it


Pluses:
Animations are smooth and detailed
Range of weaponry is good and guns are satisfying to fire
Customising your character gives a unique feel to your play through

Minuses:
Campaign is quite difficult and you feel a little underpowered
Can get caught in certain parts of maps
Campaign objectives aren't very intuitive
[schema type="review" url="https://gamereviewsau.com/zombie-hunter-inc-review" name="GameReviews Zombie Hunter Inc Review" description="Zombie hunting seems to be all the rage and has been for quite a few years. You've got your first person zombie shooters, budget mobile games that rely on well-known TV shows for players, and now there's a top down, survival style shoot 'em up from Maya Gameworks that throws you head first into the action." rev_name="Zombie Hunter Inc Review" rev_body="Zombie Hunter, Inc. is still in early-access on Steam so there are going to be a few hiccups. Sometimes you can end up getting caught on walls and all you can do is watch your health dwindle away until you are dead. Other times you could have the game crash on you, forcing you to restart the whole program. But being an indie developed game, there is a surprising amount of promise in Zombie Hunter, Inc." author="GameReviews AU" pubdate="2016-01-25″ user_review="3″ min_review="1″ max_review="5″ ]