Cut the Rope, Angry Birds, The Incredible Machine; these are but a few great strategy/puzzle games that have taken puzzles to a new level. In a world monopolised by Tetris wannabes, it's incredibly rare to find a game that not only challenges your brain but also gets rid of the linearity of matching colours or lining up objects to an exact position. Thanks to the guys at AppInTheBox your brain can and will be challenged in a way that allows your mental creativity to run wild.

Platform Used For Drop the Chicken 2 Review: iPad 2
Developer: AppInTheBox
Genre: Strategy/Puzzle
Rating:


The Story
Welcome back to our feathered hero Chuck. The chicken who is so smart he can tell you how to get to Sesame Street. With all his awesomeness, he's unfortunately fallen victim to an evil circus monkey ring master who has captured not only Chuck but also Chuck's girlfriend Henrietta. It's up to you to help Chuck perform his way through each level in order to save himself and also his beloved.
Quite a cute story and one that would effortlessly draw in a younger crowd when paired with the amusing graphics and interactive home screen. But if you look beyond the story, you will find that Drop the Chicken 2 is an incredibly intuitive puzzle game requiring you to bend your brain in order to successfully pass every level.
So What Does Chuck Need To Do?
Apart from being so cool that Chuck the chicken can play World of Warcraft and still have a girlfriend, Chuck needs to bounce, swing and blast his way out of cannons whilst catching as many flies as he can, finishing off with a glorious splash into the bucket of water deviously positioned in each level.
Chuck starts off by making his grand entrance into the show ring atop a wooden board. With a nostalgic resemblance to an older game called The Incredible Machine, you are also presented with a number of tools that you will need to position so that when the wooden board is taken out from under Chuck's feet, he will bounce, slide and somersault his way to the pool of water safely.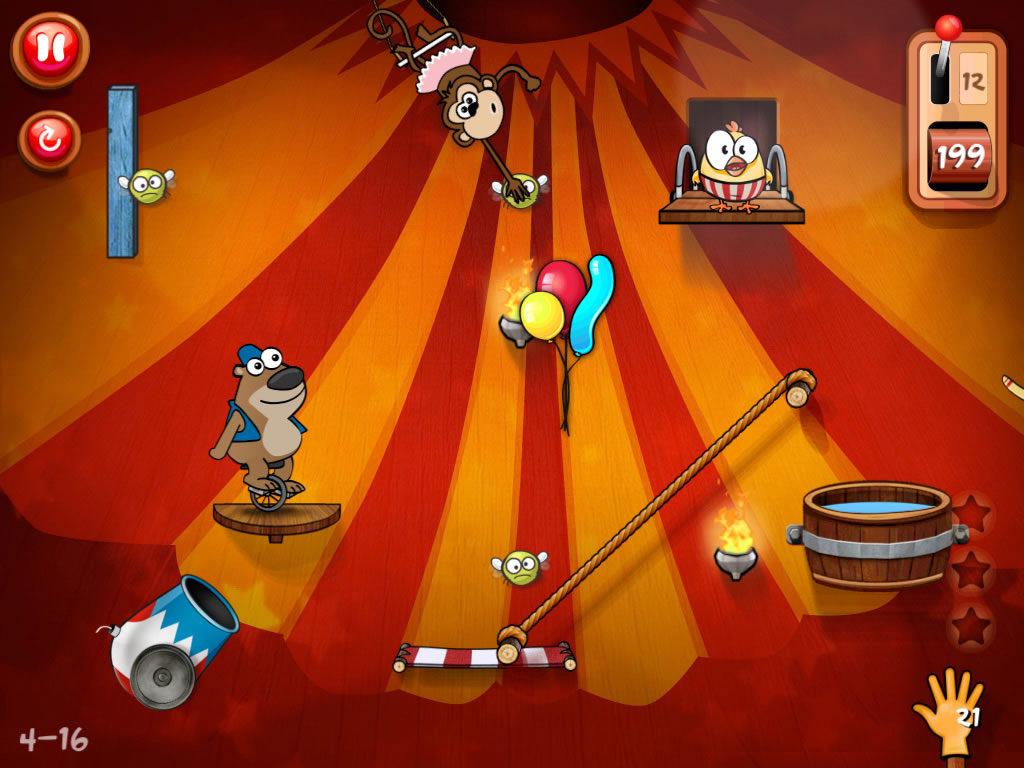 Continue reading on the next page…
[schema type="review" url="https://geo.itunes.apple.com/au/app/drop-the-chicken-2/id987406749?mt=8&uo=6&at=11l32yZ" name="Download Drop the Chicken 2″ description="Cut the Rope, Angry Birds, The Incredible Machine; these are but a few great strategy/puzzle games that have taken puzzles to a new level. In a world monopolised by Tetris wannabes, it's incredibly rare to find a game that not only challenges your brain but also gets rid of the linearity of matching colours or lining up objects to an exact position. Thanks to the guys at AppInTheBox your brain can and will be challenged in a way that allows your mental creativity to run wild." rev_name="Drop the Chicken 2 Review" rev_body="Drop the Chicken 2 is an incredibly well thought out game that will make sure your brain stays challenged. As it's very important for your brain to stay active and keep learning, AppInTheBox have created something that can act not only as a form of entertainment, but also as a way to keep your mind healthy and ever-expanding." author="GameReviews AU" pubdate="2015-12-06″ user_review="4″ min_review="1″ max_review="5″ ]