King of Thieves is a unique, soul destroying, yet hard to put down game. If you start playing this game, be prepared to keep an ever vigilant watch over your iPad/iPhone. A minute or 2 of absence can result in hours of hard work disappearing down the drain.
Platform Used For King of Thieves Review: iPad 2
Developer: ZeptoLab UK Limited
Genre: Platform/puzzle
Price: Free with in-app purchases
Rating:


When you play a game, generally the idea is to have fun. But don't get me wrong, I'm not saying this game isn't fun. But when you're faced with this platform/puzzler, you can't help but suffer from periods of euphoric highs of getting 3 stars on someone's incredibly defended level. Then again, you can't help but suffer from periods of wanting to destroy your phone/tablet when you feel like the game is out to get you.
What is King of Thieves?
To put it briefly, the game is a platform/puzzler. You take control of a small shadow like ninja who could put professional free runners to shame with his super parkour stunts.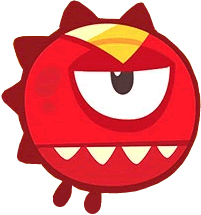 The aim of the game is to navigate levels by entering through a door protected by locks. From there you are faced with multiple obstacles to jump, slide and flip past. If you hit one of these obstacles, you will lose health. Thankfully in King of Thieves, you cannot die. Instead your life will decrease from 100 to 0 (depending on which ninja you've managed to unlock) but you will still be able to play on until you pass the level or quit in a fit of rage.
The amount of damage dealt by obstacles is dependent on the level/strength of said obstacle. To combat the extra damage of high level obstacles, you can increase your ninja's health by upgrading via a means of collecting specific items to use as currency. These currencies come in the form of magic dust, mushrooms, eyeballs and other such trinkets.
So once you have bypassed all of the obstacles in your way, you need to head to the level's treasure chest where you will be rewarded with gold and/or gemstones. To get the highest amount of loot you need to score 3 stars in a level. By losing health, your chances of getting 3 stars decreases death by death.
With your gold winnings you can upgrade your own level by increasing the level of your own defenders, or enhance your gold earning capacity among other things.
Gemstones on the other hand act as the scoring system. You can collect gemstones by unlocking access to mines along your journey through the map of levels. Another way to accumulate gemstones is by stealing them from other players.
Thievery? I Didn't See That One Coming…
When you aren't bouncing off walls to progress through the developer made levels, you can try your hand at creating your own level. Your level acts as your home base as well.
Your home base comes equipped with a gold mine that generates money over time up to a capped limit, a totem where you can commence rituals to combine gemstones into super gemstones, and 3 defensive obstacles.
The many different defensive obstacles allow for all kinds of obstacles courses to be made. Cannons that fire in a straight line, floating monsters who follow a set path, birds (which look more like bees in my opinion) that shadow your shadowy character's every move and more.
Your totem only allows for a certain amount of rituals to be made before it crumbles, so be smart when deciding which gems you want to combine. Once the totem has crumbled, you can either stay in your level and make your way to the top of the leaderboards purely by stealing others gems, or you can move to a new level with a completely replenished totem and create a brand new defence with brand new obstacles. Although you will need to progress through the developer made levels to unlock new home bases.
Continue reading on the next page…
[schema type="review" url="https://itunes.apple.com/au/app/king-of-thieves/id952715194?mt=8&uo=4&at=11l32yZ" name="Download King of Thieves" description="To put it briefly, the game is a platform/puzzler. You take control of a small shadow like ninja who could put professional free runners to shame with his super parkour stunts." rev_name="King of Thieves Review" rev_body="There are many exciting and fun features in this game but at the same time it can feel quite cruel and punishing. If you have an iOS system, King of Thieves is definitely worth a download. But try to show some restraint when this game pushes your sanity to it's limit." author="GameReviews AU" pubdate="2015-06-03″ user_review="4″ min_review="1″ max_review="5″ ]