Reminiscing about retro games seems to be all the hype these days with mobile gaming. Don't get me wrong, I have nothing against that, but some games struggle to capture that same feeling you once had as you wrenched a joystick back and forth whilst keeping your thumb cocked just above the round red button. Thankfully, when you look beyond how simple the graphics are, Street Drift 86 hits the metaphorical retro nail on the head.

Platform Used For Street Drift 86 Review: LG G3
Developer: Max Power Games
Genre: Racing
Rating:


Recommended If You Liked: GTA 1 or 2, Bump 'n' Jump
Price: Free ($1.99AUD to unlock full game)
Australians all love a good laugh. Sometimes that laugh might come from a good joke, or perhaps someone falling out of a tree and other times it might be from something we see on TV.
Two Aussie ex-console developers from Brisbane formed Max Power Games and in true Australian fashion, decided to poke fun at something they saw on an Australian current affairs TV show called 'A Current Affair'.
What they saw was a segment about modified cars dangerously drifting across four lanes of traffic in Melbourne peak hour. Take a look at the video yourself below.
Having seen the segment myself, I completely agree that the idiots driving should be taken off the road. However, it also looked like something that would feature in a computer game. It would seem the boys from Brisbane had the same idea and decided to put the idea to paper.
Don't Try This At Home (try the game instead)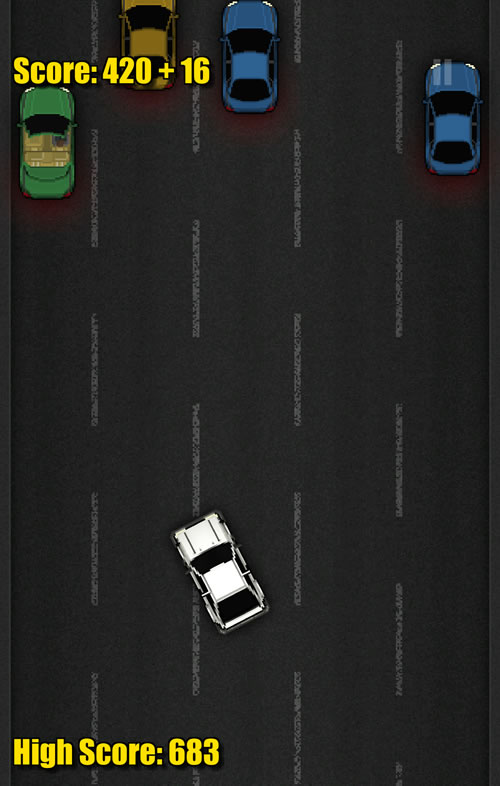 Street Drift 86 presents it's gameplay as a top down view of a five lane road where you must control a continuous drift so as to not crash into other traffic.
Tapping the screen changes the direction of your drift and, true to real life physics, the longer you drift in one direction means it will take more time to head the opposite way when you want to change direction.
Sufficient warning is given as to which lane cars will be in the form of red brake lights at the top of your screen. This gives you ample time to line up your drift so as to not end your drifting dream too soon by crashing.
The more cars you drift past and the closer you get to them will determine your score. More dangerous maneuvers are rewarded with higher points. Although once you crash into another car, the game comes to an end and displays your high score which you can submit to a leaderboard.
If you're the competitive type, you can also share your score with friends on Facebook or Twitter.
Although the concept of Street Drift 86 is quite simple, you can see the amount of effort the team at Max Power Games have gone to in order to make a retro racing game feel as realistic as possible.
Continue reading on the next page…
[schema type="review" url="https://geo.itunes.apple.com/au/app/street-drift-86/id1001072571?mt=8&at=11l32yZ" name="Download Street Drift 86″ description="Street Drift 86 presents it's gameplay as a top down view of a five lane road where you must control a continuous drift so as to not crash into other traffic." rev_name="Street Drift 86 Review" rev_body="Street Drift 86 is free to play with a small fee to pay if you want to remove the ads and experience different cars. So if you feel the need to do a bit of drifting, download this game and make sure you don't ruin your and other people's lives by doing any real life drifting on busy public roads!" author="GameReviews AU" pubdate="2015-03-09″ user_review="3″ min_review="1″ max_review="5″ ]