Every gamer goes through the phase of searching high and low for their next favourite game. It can be an incredibly frustrating, demoralising and depressing venture when all searches prove fruitless.
To try and alleviate some of that pain involved in prowling through forums, review websites and even assaulting your local game shop, GameReviewsAU have put together the following list of what we consider to be the top ten iPhone and iPad games available now from least to most favourite.
10. Royal Revolt 2 (free)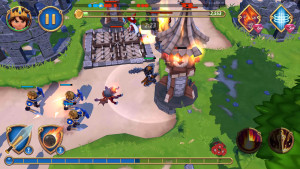 Genre: Tower Defence/Action



Coming in at number ten doesn't mean in any way that Royal Revolt 2 should be overlooked. In fact it redefined the tower defence genre by putting you in the shoes of a tiny king who leads his troops through crafted mazes of traps, towers and defending troops.
GameReviewsAU reviewed Royal Revolt 2 a while back and you can find a link to our review below.
9. Fates Forever (free)
Genre: MOBA



One of the more fun to play and graphically pleasing MOBAs to be found on a portable device (and the first tablet only MOBA), Fates Forever delivers an engaging and pure MOBA experience to it's players. The characters and abilities are well thought out as well as being a pleasure to look at and control. A must have for MOBA lovers! Check out the beautiful trailer below.
8. The Room Series
Genre: Puzzle


The Room 1 –
The Room 2 –
The Room 3 –
I know that citing the whole The Room series is really listing more than one game, but due to their short game length and mysterious stories you definitely have to play them both. Basically you're led through a number of different dark and mysterious rooms and tasked with having to figure out some pretty devious puzzles in order to progress. The story that plays out as you succeed in masterminding The Room keeps you wondering what's going to happen next. With The Room 3 stated to be coming soon by developers Fireproof Games, you should really check out the previous instalments to psyche yourself up.
7. Tap Titans (free)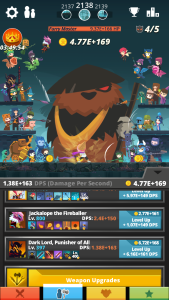 Genre: Monster Training Clicker



It took me a while to get over the RSI I inflicted on myself by tapping my iPad screen non stop for about eight hours straight but it was worth it damn it! I only managed to reach stage three hundred and fifty during that burst but buying and levelling up my heroes with my painstaking (literally) efforts was so darn satisfying. In Tap Titans you tap the screen to inflict damage to the monsters that appear and fight your way through thousands of stages in order to earn gold to buy more heroes to increase your tap damage. An incredibly simple concept that is becoming a recognised genre due to it's pure addictive gameplay.
6. Infinity Blade Series
Genre: Action Role-Playing Game


Infinity Blade 1 –
Infinity Blade 2 –
Infinity Blade 3 –
Once again another series of games that are all brilliant in themselves. Starting with the first Infinity Blade (obviously), we were introduced to a new type of interactive game that put gamers' reaction times and skill to the ultimate test. Your characters (you'll understand why it's plural when you die) progress through castles, wastelands, sewers and many more inspired locations; engaging with all sorts of different foes. Each foe has it's own body type, weapon and attack style for you to defend and attack against by swiping in certain directions on your screen to initiate attacks or fend off blows. Creating devastating combos that completely knock your enemies off their feet is some of the most entertaining gaming you'll ever experience.
Continue reading on the next page…